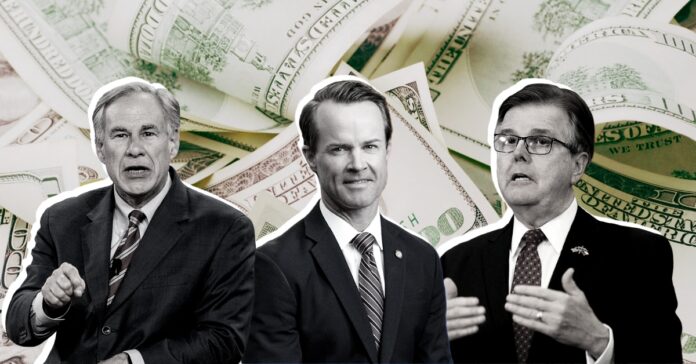 On Wednesday, state-level campaign finance reports were released, offering a glimpse into the war chest of some of Texas' top politicians; like the "Big Three" in the 88th Texas Legislature.

The latest campaign finance deadline was the semi-annual report due January 17, which covers the period from their last filing – from October 30 if they were on the November 2022 ballot; if not, from July 1 through December 31, 2018.

As Reform Austin has previously reported, Texas is one of 15 states to prohibit political fundraising during the legislative session. The Texas Ethics Commission's "Moratorium on Contributions" prevents elected officials and related entities from raising money during the legislative session. The 2023 moratorium began on December 10, 2022, and ends on June 19, 2023, following the end of the 88th regular session.

The "Big Three"
After Gov. Greg Abbott and Democrat Beto O'Rourke made Texas history in the most expensive Governor's race ever, it is no surprise that Abbott's war chest is depleted. His balance which was over $65 million two years ago, ended up at $7.1 million this year. O'Rourke, on the other hand, had just $212,000 left as of December 31.

Abbott's top donor for the latest reporting period was the Republican Governors Association, which sent his campaign $4 million on Election Day – a significant amount of money for a race that wasn't considered competitive amongst national groups, as pointed out by Patrick Svitek from The Texas Tribune.

While the Governor might have lost some cash, Lt. Governor Dan Patrick, on the contrary, maintained his war chest at $16.5 million and managed to raise almost $2 million in 2 months. His top donors included; Cowboys owner Jerry Jones and Arch Alpine, the founder of Buc-ee's, the Texas-based gas station company.

For the first time since July, House Speaker Dade Phelan had to disclose his campaign finances. He reported that he raised $4.5 million from July 1 through December 31, spent $3.8 million, and had $5.1 million in cash on hand.

His top donors included the Republican State Leadership Committee, which donated $190,000, and Texas Sands PAC, which donated $150,000. Sands casino also happened to be a Diamond sponsor for Tuesday's Inaugural celebrations, giving $100,000 for six tickets to Monday night's Inaugural Appreciation Dinner and eight to Tuesday night's separate, VIP shindig at the posh Four Seasons Hotel Austin.