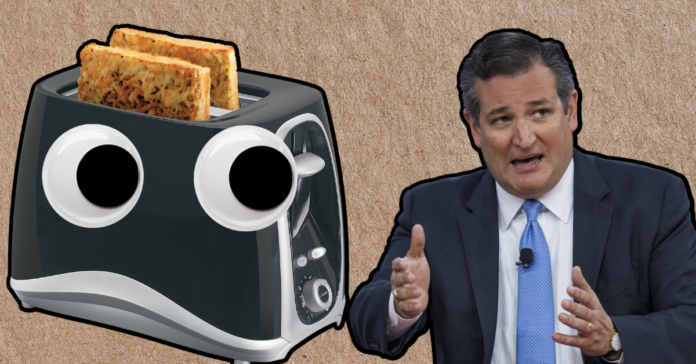 As you prepare your holiday season budget for gifts, you might assume that your elected representatives are busy doing the heavy lifting on top-priority "kitchen table" issues to help ease the nation's economic problems.
But Sen. Ted Cruz was recently hard at work co-authoring legislation with Sen. Maria Cantwell, D-Wash. called the "Informing Consumers about Smart Devices Act," which is focused on making sure that home smart devices — like your toaster or refrigerator — aren't spying on you.
The bill, written on Nov. 18 would require the Federal Trade Commission to "create reasonable disclosure guidelines for products that have audio or visual recording components, such as refrigerators, washers, dryers, and dishwashers that are not clearly obvious," Cruz's news release said.
The statement pointed out the potential danger caused by the proliferation of household devices and appliances that have cameras and/or microphones that can collect and transmit data without the consumer's knowledge.
As well-intentioned as the bi-partisan bill might be, it's not clear how much Cruz's new legislation will help the public, compared to working across the aisle on more pressing issues.
A CNN poll before the midterm elections shows that Americans are concerned about other problems — such as guaranteeing reproductive and marital status rights, gun violence, inflation, the environment, and immigration — especially with a divided congress come January.
The bill might please some who are wary of the technology, fearful that electronic devices spy on them. Smart home appliances, while still a luxury for many citizens, could theoretically be used in nefarious ways.
Your connected devices have the capacity, if they fall under the control of a rogue hacker or tech company employee capture your voice or image — but this is not a new problem, as Forbes published an article on the subject in 2014.
Nor can manufacturers completely prevent your electronic devices from being turned into monitoring devices by hackers if they are motivated enough.
That's the risk of technological advancement, but the benefit of having them is seemingly worth it. Many use smartphones without realizing or caring that they could be hacked, and they have become as essential for employment as transportation for many.
A quick look at the financial data of the companies in the smart device space indicates clearly that it's a strong growth market, so it's doubtful that putting a mandated warning label on a product will slow sales.
Revenue in the Smart Appliances segment alone is projected to reach nearly $9 billion by the end of 2022.
And non-smart appliances, known as "dumb" products like standard refrigerators or toasters are still available for purchase by those who simply don't like learning how to use the new type of products.
But the makers of such devices make it possible for you to turn off the device temporarily when you are discussing sensitive information such as Social Security numbers, bank accounts, etc.
And for some, the ineptitude of devices like Alexa to understand what you are asking for when speaking to them gives you the sense that the devices are not exactly James Bond-like bugs.
Alexa, the flagship artificial intelligence product for Amazon has recently come under harsh internal criticism for not living up to the company's vision for the device, as it is a money loser to the tune of $10 billion this year alone.
And much like your browser history, your online data is out there — that genie has been out of the bottle since you first connected to the internet.
Omnipresent technology giants like Google, Facebook, and Amazon have made their fortunes tracking and selling our data — for years — either on purpose or through hacks that their products inadvertently allowed.
In 2018, a new smart device survey by Consumers International and the Internet Society brought to light that as reports of stolen identities have become as common as violent crime is in the news, we keep using them in our daily lives around the clock.
The study found 63 percent of people find connected devices "creepy," and 75 percent did not trust the way their data was being used. This study included participants from the United States, Canada, Japan, Australia, France, and the United Kingdom.
But that hasn't stopped them from buying these devices — for every conceivable area and purpose of their living space or car — all of which contain some combination of cameras, microphones, and other sensors.
As with all technological innovations — such as the automobile or the airplane — skeptics called them unnecessary, expensive, and dangerous. But they were all made more secure as the products evolved, and so are smart devices with the help of tech industry experts.