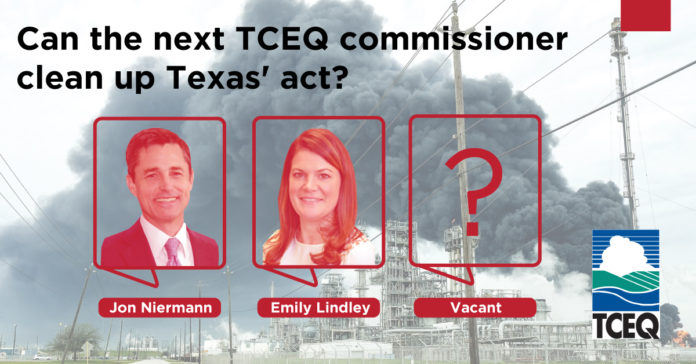 Don't mess with Texas. It's a phrase our own government ignores when it comes to environmental protections against corporate interests at the expense of Texans.

With a recent vacancy in the Texas Commission of Environmental Quality, or TCEQ, Governor Greg Abbott has a chance to select an appointee that prioritizes Texans' health, but past actions like suing the EPA as attorney general and vetoing funding for clean air programs as governor make that unlikely.

TCEQ states that its mission is "to protect our state's public health and natural resources consistent with sustainable economic development. Our goal is clean air, clean water, and safe management of waste."

Yet despite the commission's role in facilitating legislative policies, issuing violations and fines for environmental offenders, and operating with a $370.3 million dollar budget, Texas environmental concerns continue to rise.

Given that "more than half of all businesses targeted by the TCEQ received a discount of at least 20 percent on their fines," according to a 2016 investigation by KXAN, violators break the law knowing their fine will likely equate to a slap on the wrist.

To combat this, in 2019 State Rep. Erin Zweiner, D-Driftwood, created a bill that would require state penalties to be equal to a violator's economic profit during the 86th legislative session. Despite positive feedback, the bill was never called for a vote and stalled in committee.

In 2018 The United Health Foundation placed Texas in the top 10 worst states for air pollution based on pollutant particles in the air. A 2018 report found that Texas falls in the top 10 states for industrial facilities with severe violations; some facilities exceed limits by over 500 percent. Texas has been found to have contaminated water as businesses get rid of excess materials in prohibited ways.

According to their 2018 annual report, TCEQ regulated 1,404 entities, issuing administrative and civil judicial orders in response. The total number of incidents reported went up 12 percent from fiscal year 2017-2018, with emissions in Texas increasing 4.9% in the same time period.

An appointed commissioner willing to fight a polluter-first mindset might not solve the problem entirely, but it would be a step in the right direction as problems threaten to become worse. Even as corporations claim to generate cleaner power, industrial plants and factories have continued to plague the environment with pollution. The Rhodium Group, an independent research organization, released a study that found the industrial sector would be the biggest source of emissions in Texas by 2022.

Texans deserve the things that the TCEQ pledges to bring: clean air, clean water, and clean land. Our government should make this a priority. After all, pollution isn't a partisan issue—it's a Texas issue.