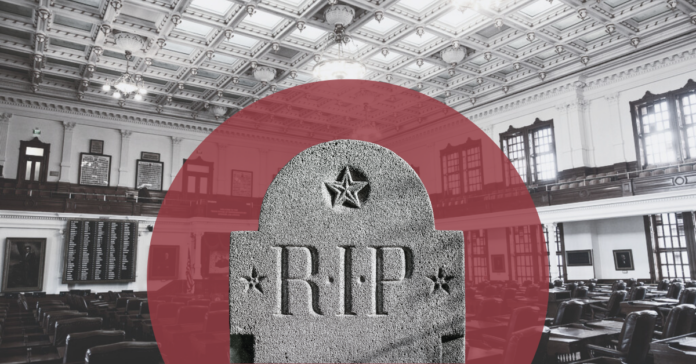 The Texas Legislature faces a critical deadline as the clock ticks toward midnight on Tuesday. It marks the last day for the House to pass Senate bills on second reading, with any unfinished business effectively ending as the 88th Regular Session nears its conclusion.

Several significant bills hang in the balance on Tuesday's calendar. Among them are two education priority bills that involve teacher salary increases (SB9) and funding for school security measures (SB11.)

Since the beginning of the session, teachers had hoped some of the historic budget surplus would come their way, addressing the state's yearslong teacher exodus crisis. While SB9, filed by Sen. Brandon Creighton, is still up for a fight, it would offer a significantly more modest raise than the ambitious proposal of giving every teacher in Texas a $15,000 raise.

HB 100, which needs to pass through the Senate, would also increase teacher pay, raising the required state funding percentage for teacher raises from 30% to 50%, allowing the rest to be used for other school expenses. It updates the base salary scale for teachers based on experience and incorporates provisions from other bills to address the state's teacher shortage.

Also up for a vote is SB 1515, which would allow the Ten Commandments to be posted in every classroom in the state – part of the national effort to insert religion into public life.

The controversial bill has raised concerns among opponents, who worry that it could infringe on religious expression rights and exclude other religions. The bills' legal implications have also raised concern since they are quite complex.

"Going forward, courts have to analyze this according to historical practices and understandings," Steven Collis, a University of Texas law professor and director of the Bech-Loughlin First Amendment Center and of its Law and Religion Clinic told Austin American-Statesman. "I think parties are going to have to litigate this out and figure out what are going to be the limits of the Establishment Clause."

Meanwhile, the Senate's first-floor deadline is on Wednesday. Whatever bill doesn't get passed by the Senate by then is dead.

Gov. Greg Abbott, whose top priority this session is "school choice," has his eyes on the Senate, which added an ESA-type voucher to a committee substitute for House Bill 100, after threats from Abbott of a special session if a voucher-like program did not pass.

HB100 would offer up to $8,000 in taxpayer money per student each year for parents who choose to opt out of the public school system, with funds eligible for private schooling expenses, textbooks, and tutoring.

Earlier in the session, the Senate attempted to pass a more universal voucher program through Senate Bill 8, but the House Committee on Public Education limited its scope, causing the bill to fail in committee.

The Last Stretch

After Wednesday, attention will shift to conference committees tasked with reconciling different versions of bills that have gained approval in both chambers. These committee deliberations will occupy the final days of the 88th Legislative Session until adjournment sine die on May 29.

Depending on what bills get across the finish line, will determine if Gov. Abbott decides to hold a special session later this year.