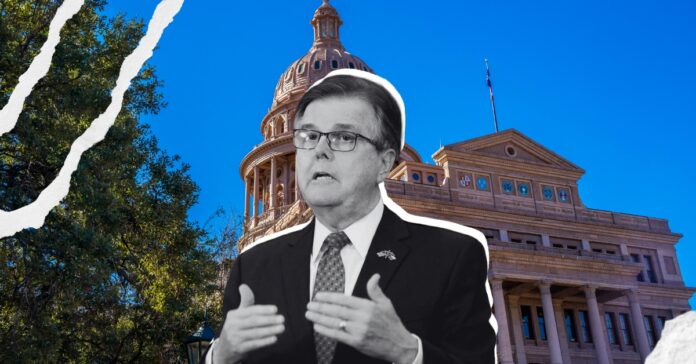 Q: When is a special session of the legislature not a special session of the legislature? A: When Lt. Gov. Dan Patrick decides to play chicken with the process to pass an unpopular school voucher bill.
Both Patrick and Governor Greg Abbott made passing a school voucher bill a top priority this legislative session despite opposition from their own party. His Education Savings Account system would let Texas parents use $8,000 of taxpayer money to pay for tuition at private, usually religious schools. Bipartisan opposition points out that such a system would drain public schools of enrollment and subsequent funding, something that could be catastrophic for smaller, rural districts. As such, an amendment to the general budget bill that would prohibit funding the voucher system passed handily in the House even as the Texas Senate pushed along the plan.
This leaves the voucher bill in limbo, but Patrick apparently has an ace up his sleeve. He told Spectrum News anchor Karina Kling that by holding up a must-pass bill in the Senate, where he has control, he can essentially create his own special session of the legislature despite lacking the constitutional authority.
"I can't call a special, but I can create one by not passing a key bill that has to pass," he said. "That's what I did in '17."
Like in 2017, the object of Patrick's focus was a regressive culture war, specifically regulating gendered bathrooms. This time around, he and Abbott are attempting to combat "wokeness" in schools by funneling students and money to Christian schools that are free from many anti-discrimination rules that govern public schools.
Back then, Patrick in his first year as Lt. Governor stalled a necessary bill that would extend the life of state agencies to try and force through his anti-trans legislation. It ultimately failed to pass.
This time, there are two possibilities for Patrick to hold hostage. The first is redistricting. As the first full session following the U.S. Census, the Texas Legislature must pass a final redistricting bill. Most of the time, it's a mere formality, but Patrick could use it as a cudgel to punish Republicans who oppose him on school vouchers.
The more likely target would be the large budget bill. Texas has a $32 billion tax surplus, and the spending of the extra money has been a huge topic for every lawmaker. The stakes are high, especially as Republicans seek massive property tax reform that could save homeowners thousands of dollars annually.
Currently, the House and the Senate are locked in another fight over increasing the homestead exemption, which has already turned as nasty as the one around vouchers. That said, the budget must pass, and Republicans will suffer politically if they don't deliver property tax savings to their constituents.
The question is now whether the rural Republican opposition to the school voucher program that threatens public schools, the lifeblood of many small communities, is stronger than their desire to stand up to Patrick's politicking.