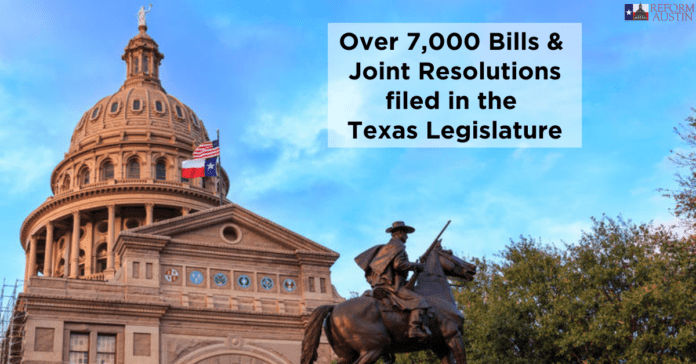 AUSTIN, TX – Friday was the last day to file bills for consideration during the 86th legislative session. Legislators from the Texas Senate and the House of Representatives collectively filed 7,281 bills and joint resolutions. To put this in context, in the last session, only 18 percent of the 6,800 introduced bills and joint resolutions were passed into law.
In the House, 2,481 bills and joint resolutions (out of 4,773) have been referred to a committee, the first step in the process for a bill to become law, while 1,388 bills and joint resolutions in the Senate (out of 2,508) have been referred to a committee.
Leading the number of bills filed in the House is Rep. James White (R-Hillister) with 89 bills and Rep. Ryan Guillen (D-Rio Grande City) with 80 bills. In the Senate, Sen. Zaffirini (D-Laredo) and Sen. José Menéndez (D-San Antonio) led Senators in bills filed with 213 and 164, respectively. Speaker Dennis Bonnen (R-Angleton) did not file any bills but filed nine resolutions. Sen. John Whitmire (D-Houston) and Sen. Pete Flores (R-Pleasanton) filed the least number of bills and joint resolutions in the Senate with 22 and 26, respectively.
School Finance Reform and Property Tax Relief
On a session focused heavily on school finance and property taxes, 417 bills and joint resolutions dealt with both of those issues. Chief among them for school finance is Chair Dan Huberty's (R-Houston) House Bill 3 and Chair Larry Taylor's (R-Friendswood) Senate Bill 4, both of which were filed this week. Committee hearings for HB 3 begin next week. Low numbers for bills indicate top-priority legislation for the House Speaker and Lieutenant Governor.
For property taxes, there is Senate Bill 5, Senate Bill 2 and its companion bill House Bill 2. The latter two bills reform appraisals and slow property tax growth with a 2.5 percent property tax revenue cap for local school districts and governments. SB 2 has cleared committee, but as of yet, does not have enough votes to bring it to the Senate floor. SB 5 increases the homestead exemption by $10,000.
Governor's Four Emergency Items
On the governor's four other emergency items, teacher pay, school safety, mental health of students and disaster relief for Hurricane Harvey, several bills have been filed and were able to speed through committee, more of them in the Senate than in the House.
For teacher pay, there is Chair Jane Nelson's (R-Flower Mound) SB 3, which has passed the Senate, and its companion in the House. SB 3 calls for an across-the-board $5,000 raise to all classroom teachers and librarians. Speaker Bonnen, on the other hand, supports giving school districts the money so they have flexibility in raising teacher pay. Chair Huberty's school finance plan incorporates Bonnen's vision.
For school safety and mental health, there is Chair Taylor's SB 11, Chair Nelson's SB 10, Rep. Senfronia Thompson's (D-Houston) HB 10, Rep. Greg Bonnen's (R-Friendswood) HB 17 and two of Rep. Four Price's (R-Amarillo) bills, HB 18 and HB 19.
SB 11, which heard testimony in committee this week, would add mental health professionals to schools, expand emergency response training for school employees and establish threat assessment teams. SB 10, which passed the Senate, would create a mental health consortium, award research grants, and make child psychiatrists available for consultation via telemedicine. HB 10 creates a similar consortium and would also award grants to promote child and adolescent psychiatric nursing programs.
HB 17 is a broad school safety plan, which would expand state laws about emergency preparedness. Rep. Price's HB 18 requires appropriate mental health education for students and additional training, using best practices, of school employees to better serve students with substance use disorders and other behavioral health challenges. HB 19 increases the number of mental health professionals in school districts.
For Hurricane Harvey relief, there are two sets of bills in the Senate – SB 6, SB 7, and SB 8 – and in the House, HB 5, HB 6, HB 7, and HB 13.
Governor's Priority Items
The Governor also had a few priority items, including supporting sexual assault survivors through HB 8 addressing the rape kit backlog and addressing human trafficking through bills like HB 15 and SB 20. His third priority item is fully funding border security, which is in both the budgets of the House and the Senate.
Reform Austin will continue to report on developments on these bills and other pieces of legislation addressing the issues affecting Texans.