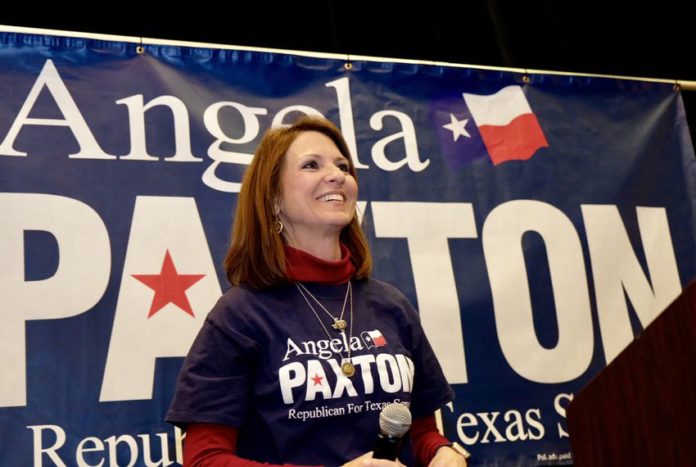 Sen. Angela Paxton's Senate Bill 860, based on a 2018 Arizona law, would grant broad powers to the attorney general's consumer protection division. Laura Skelding for The Texas Tribune
In what state Sen. Angela Paxton describes as an effort to safely expand Texas' burgeoning financial tech industry, the freshman Republican from McKinney has filed a bill that would empower the office of her husband, Attorney General Ken Paxton, to exempt entrepreneurs from certain state regulations so they can market "innovative financial products or services."
One of those exemptions would be working as an "investment adviser" without registering with the state board. Currently, doing so is a felony in Texas — one for which Ken Paxton was issued a civil penalty in 2014 and criminally charged in 2015.
Senate Bill 860, filed Friday, would create within the attorney general's office a new program — what the bill calls a "regulatory sandbox" — that would allow approved individuals "limited access to the market … without obtaining a license, registration, or other regulatory authorization." The bill, based on a 2018 Arizona law hailed as the first of its kind, aims to cut red tape for the growing financial tech sector, allowing businesses to market new products for up to two years and to as many as 10,000 customers with scant regulation.
In doing so, the bill would grant broad powers to the attorney general's consumer protection division, allowing it to accept or reject entrepreneurial applicants who seek to hawk innovative products outside of the state's current standards and regulations.
Angela Paxton said the bill is geared toward strengthening consumer protections in the under-regulated, ever-changing financial tech industry — a sector that in Texas is largely centered in Richardson, part of her North Texas district. Constituents from that district first brought the issue to her attention, her office said.
"SB 860 allows for the growth and economic benefit of the emerging Financial Technology industry while the state provides the necessary regulatory framework and consumer protection in the marketplace," she said in a statement to The Texas Tribune. "The state agencies that have regulatory oversight of financial institutions and consumer protection laws will provide appropriate regulatory support within the sandbox to ensure that consumers are protected."
But skeptics pointed to the bill's optics problem: Ken Paxton, a statewide official accused of violating state securities law, would be empowered to decide who can skirt state securities law. And he'd get that power from a bill authored by his wife. Currently, Texas law requires investment advisers to register with the state. Failing to do so is a third-degree felony punishable by a sentence of two to 10 years.
Ken Paxton was charged under that law in 2015, when prosecutors alleged he had failed to register with state securities regulators for soliciting clients for Mowery Capital Management in return for fees. That came in an indictment with two other, more serious securities fraud allegations.
The criminal charges have yet to be tested at a trial, but the Texas State Securities Board found in 2014 that Paxton had acted illegally as an unregistered securities adviser at least three times: in 2004, 2005 and 2012. When he was issued a $1,000 fine in 2014, Paxton signed the disciplinary order and did not dispute its findings. At the time, a spokesman dismissed the charge as "an administrative oversight."
Ken Paxton's office did not return requests for comment. He has long decried the pending criminal case against him as politically motivated and has denied wrongdoing. His criminal trial, delayed for years, is on hold as the Texas Court of Criminal Appeals considers a side battle related to the appropriate pay scale for his appointed prosecutors.
In 2016, Paxton was cleared of related civil charges brought by the U.S. Securities and Exchange Commission.
Currently, the Texas State Securities Board is charged with reviewing applicants who seek to become financial advisers or sell securities. Angela Paxton's proposal would — for applicants approved by the agency her husband leads — circumvent that process, handing some approval power to the attorney general's office, and would override any existing state law that conflicts with it.
Jens Dammann, a securities expert at the University of Texas School of Law, said Angela Paxton's bill would open a "fairly aggressive exception" in state securities regulations at a time when the trend nationally is to regulate more, not less.
It would also take the approval process out of the hands of state securities specialists and put it in the hands of someone whose primary expertise is in enforcing the law, experts said.