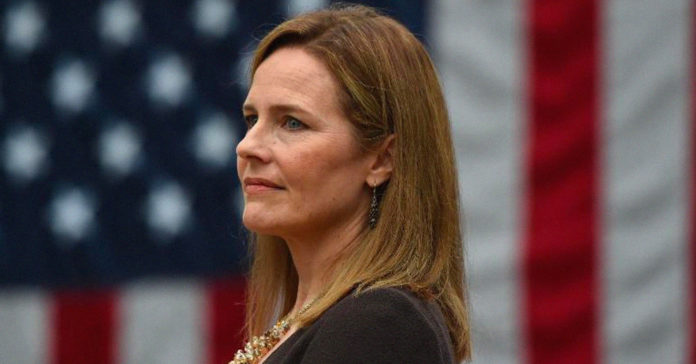 Texans' reactions and predictions about President Donald Trump's nomination of Amy Coney Barrett to the Supreme Court are breaking along predictable partisan lines.
"Her proven legal brilliance is matched by her exceptional character and unflinching commitment to the U.S. Constitution," Republican Gov. Greg Abbott said in a statement. "The Senate should swiftly confirm Judge Amy Coney Barrett to the United States Supreme Court just as it recently confirmed her to the 7th Circuit Court of Appeals."
Texas Attorney General Ken Paxton called Trump's selection "exceptional."
"Judge Barrett, who currently serves on the United States Court of Appeals for the Seventh Circuit, has extensive experience in the Supreme Court's work as a clerk for the late Justice Antonin Scalia and as a law professor at the University of Notre Dame, where she was named 'distinguished professor of the year' three times," he stated. "She has also written nearly 100 opinions in an impressive judicial track record that demonstrates superb temperament, judicial restraint, and a firm commitment to following the rule of law and upholding the Constitution."
Texas Democrats believe Barrett's nomination spells serious trouble for many of the legal issues championed by her predecessor, Justice Ruth Bader Ginsburg. They say everything from health care to reproductive rights to voting rights to immigrant rights is on the ballot in November.
"Despite overwhelming public support for voters to have a say in the next Supreme Court justice, Donald Trump blew through precedent, the so-called McConnell Rule and Ruth Bader Ginsburg's own dying wish to see the next president select her replacement," said Texas Democratic Party Chair Gilberto Hinojosa and Vice Chair Dr. Carla Brailey. "If Trump is successful, health care will be dismantled for millions of Texans while millions more will lose protections for pre-existing conditions in the middle of the deadliest pandemic in United States history. This is dead wrong."
Barrett is being compared to the late Justice Antonin Scalia, an ultra conservative whom Barrett once clerked for. It is her work on the 7th Circuit Court of Appeals and her scholarly writing and commentary that has the left so concerned and the right singing her praises.
In a story that ran on WBGO, Newark, New Jersey's public radio station, University of Texas law professor Stephen Vladeck said he expects Barrett's confirmation will transform SCOTUS into the most conservative court since the 1930s — a court that would be much more aggressive in its conservative agenda.
"When it comes to big-picture cases, running the spectrum from abortion to religion to campaign finance to everything, there is no longer going to be … any concern about a squishy median when you have six solid conservatives from which to find five" justices to form a majority, Vladeck said.
Among the first cases with strong Texas ties that Barrett would have to consider is the challenge to the Affordable Care Act led by Paxton. The court has scheduled oral arguments for the week after the election.