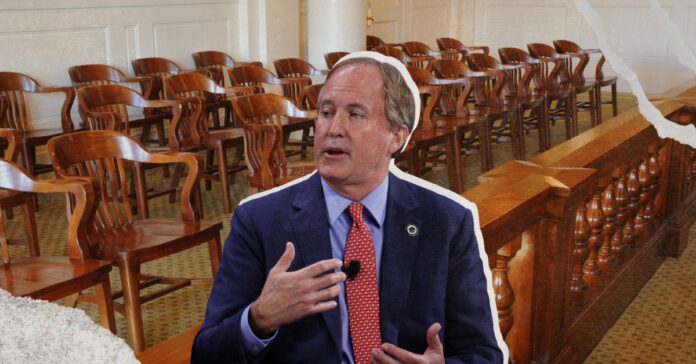 In a surprising turn of events, lead attorney Tony Buzbee announced that Texas Attorney General Ken Paxton will not testify in his upcoming impeachment trial in the Texas Senate.

The statement, released on the eve of the July Fourth holiday, emphasized Paxton's determination to fight any attempt to force his testimony.

"We will not bow to their evil, illegal, and unprecedented weaponization of state power in the Senate chamber," Buzbee said of the House, as reported by The Texas Tribune.After the decisive vote by the Texas House on May 27, Paxton, a three-term Republican, faced suspension from office (without pay,) and the Senate scheduled a trial on September 5 to decide whether to permanently remove him.
The House approved 20 articles of impeachment, accusing Paxton of accepting bribes and abusing his office's power. The articles have a significant focus on Paxton's association with Austin real estate developer Nate Paul. Paul, who is also a political donor, is currently facing federal charges for eight counts of mortgage fraud.
The recent approval of trial rules by the Senate, granting the presiding officer -Lt. Gov. Dan Patrick – the "power to compel the attendance of witnesses," seems to have triggered Paxton's defense team, since the rules went against some of the requests made by his lawyers, such as restrictions on witness subpoenas and live testimony.
While Paxton previously expressed his hope for a fair trial in the Senate, this statement marks the first instance of resistance against the Senate's handling of his impeachment.
Tony Buzbee's statement primarily criticizes the House impeachment process, focusing on their alleged disregard for precedent, denial of Paxton's defense preparation, and their intention to ambush him during the Senate trial.
"​​The House has ignored precedent, denied him an opportunity to prepare his defense, and now wants to ambush him on the floor of the Senate," Buzbee said. "They had the opportunity to have Attorney General Paxton testify during their sham investigation but refused to do so."
While Paxton's decision not to testify raises questions, the trial could still feature significant testimonies. According to The Texas Tribune, one of the whistleblowers, Blake Brickman, expressed his desire to testify in person.
"​​The House has ignored precedent, denied him an opportunity to prepare his defense, and now wants to ambush him on the floor of the Senate," Buzbee said. "They had the opportunity to have Attorney General Paxton testify during their sham investigation but refused to do so."