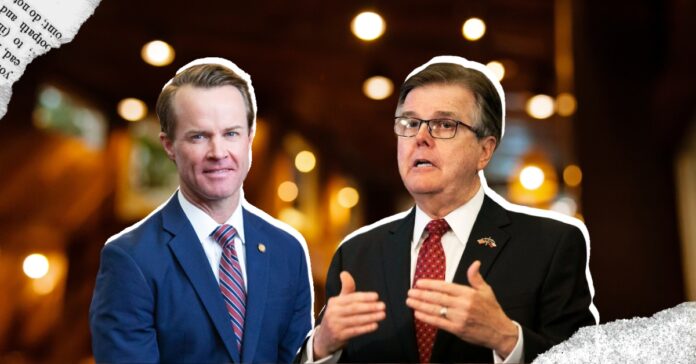 For four months, Texas Republican legislators have been locked in a brutal trench war on property tax reform. Both the House and the Senate agree that some of the $32 billion surplus should go to alleviate property taxes, but neither chamber agrees on what form the relief should look like. In an effort to break the stalemate, House Democrats have filed their own proposal, and it seems to be the best of both worlds and better besides.
House Bill 62 was filed by state Rep. John Bryant (D-Dallas) and a small group of fellow Democrats. So far, it has not received a comment from House Speaker Dade Phelan, but the measures the bill lays out strike a compromise between the two competing Republican views while adding additional support for renters.
The House originally wanted to spend billions on capping appraisal increases on properties, including commercial properties. That has mostly been abandoned for a drop in property taxes collected by schools, known as compression. The Democratic bill would compress taxes by $4.11 billion, a significant savings for taxpayers, but far less than the $17.6 billion currently favored by House Republicans and Governor Greg Abbott.
In the case of the homestead exemption, the Democrats actually go further than Senate Republicans. House Bill 62 would exempt taxes on primary residences up to $200,000 or 25 percent of the home's value, whichever is higher. This is five times the amount Texas homeowners can currently exempt, and represent the bulk of the savings in the bill.
On top of helping homeowners, the bill proposes a 10 percent cash rebate on rent. The current Republican plan has no renter relief at all and leaves 38 percent of Texans without any benefit from their property tax proposal. Renters generally make up the poorest Texans, and relief is desperately needed thanks to soaring rent prices across the state following COVID.
Schools will definitely benefit greatly under the Democratic plan. Not only are teachers guaranteed a $4,300 per year raise, child allotment would be increased to $1,000 and grow according to future inflation. The current child allotment has not kept up with price increases since 2019, leaving many educators unable to pay their bills thanks to the soaring price of goods. Rather than have this argument again in four years, the Democrat plan would keep increasing the amount sent to schools based on inflation growth.
It's a solid plan that gives House and Senate Republicans some of what they want. Can it become law?
House Democrats are in the minority and not needed to pass any bill. However, there are enough of them that their support could possibly empower a fraction open to compromise to bypass the stalemate. Thus far, the House has been the more stubborn chamber, even adjourning after passing their bill to deny the Senate a chance to weigh in.
It's possible that Texas Republicans could save face by adopting the Democratic plan and then subsequently blaming anything they didn't get on the minority party. It would be at least one way to break the logjam.