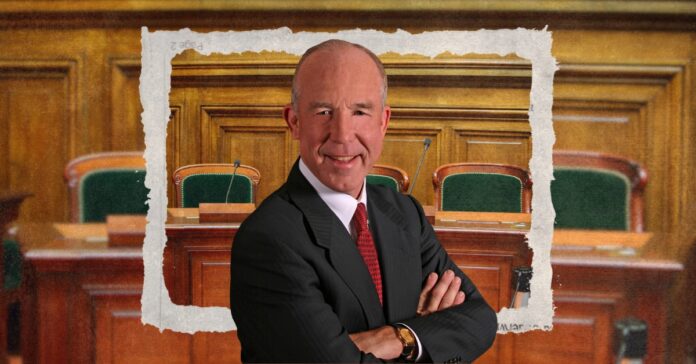 On Friday, conservative activist Steve Hotze filed a lawsuit challenging a gag order issued by Lt. Gov. Dan Patrick in the impeachment trial of Attorney General Ken Paxton.

Hotze argues that the gag order violates free speech protections under the Texas Constitution. The policy prevents both sides from making public statements that could prejudice the trial and imposes fines and jail time for violators.
Hotze, a longtime supporter of Patrick and Ken Paxton, contends that the gag order "unreasonably restricts speech by prohibiting communication with an elected official." He believes it silences Texans' voices and denies them the right to express their opinions on a matter of public interest.

"For all practical purposes, the Senate is saying we don't want to hear from you Texans, even though we were elected to represent you," said Jared Woodfill, Hotze's attorney.
Furthermore, Hotze's lawsuit seeks to block a rule that bars Paxton's wife, state Sen. Angela Paxton, from participating in private deliberations or voting in the trial. The Senate adopted this rule, citing a part of the Texas Constitution that prohibits members from voting on matters in which they have a personal or private interest.

Hotze argues that this rule unfairly targets Angela Paxton and fails to address conflicts of interest among other senators who have publicly shown bias, as reported by The Houston Chronicle.

"Every senator presiding over General Paxton's impeachment trial has a bias or partiality for or against General Paxton," the lawsuit reads. "Party affiliation alone raises partiality concerns. The Democrats in the Senate have worked to defeat General Paxton for years and most of the Republican senators have supported General Paxton."

Meanwhile, Paxton's lawyers recently filed a motion seeking the disqualification of three Democratic state senators from serving as jurors citing alleged bias against Paxton.

Both Hotze's and Paxton's motions fail to mention Sens. Bryan Hughes or Donna Campbell, who are both also involved in matters relating to the impeachment.

The House had previously voted to impeach Paxton in May, accusing him of misconduct and lawbreaking, with a focus on allegations of favoritism toward a wealthy Austin businessman and campaign donor, Nate Paul.

Paxton denies all wrongdoing and views the trial as politically motivated and unfair. The Senate trial, which is set to begin Sept. 5 will determine whether he is removed from office.