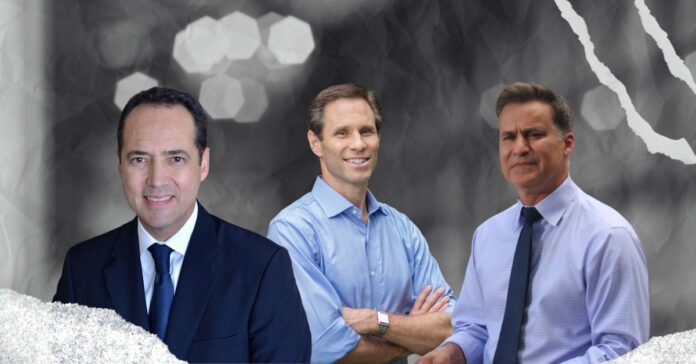 The drama surrounding Attorney General Ken Paxton's impeachment trial continues, as his lawyers have filed a motion seeking the disqualification of three Democratic state senators from serving as jurors.

The motion, filed last Friday, calls on Lt. Gov. Dan Patrick to disqualify Senators Nathan Johnson of Dallas, Roland Gutierrez of San Antonio, and José Menéndez of San Antonio, citing their alleged bias against Paxton.

According to Paxton's legal team, the senators have made numerous public statements over the years expressing their critical views of Paxton, including recent remarks related to the evidence gathered against him.

"Jurors José Menendez, Roland Gutierrez, and Nathan Johnson have such a bias and have proclaimed it loudly, time and again," the motion said.

"No one who has publicly declared the charges against a defendant irrefutable can even play at impartiality, let alone serve in an impartial manner," Paxton's lawyers argued.

The instance to which the motion refers to is an MSNBC interview in which Gutierrez, who is also running for a U.S. Senate seat, reportedly stated that the evidence against Paxton "could not be refuted."
In addition, they point to a tweet from Senator Johnson, reacting to a political action committee's donation to Lt. Gov. Patrick, as evidence of bias and a violation of a gag order issued by Patrick.According to The Texas Tribune, in response, the House impeachment managers have registered their opposition to the motion, expressing their trust that all eligible senators will fulfill their constitutional duty to impartially try Paxton.
The House had previously voted to impeach Paxton in May, accusing him of misconduct and lawbreaking, with a focus on allegations of favoritism toward a wealthy Austin businessman and campaign donor, Nate Paul.
Paxton's impeachment trial is set to begin Sept. 5.
Impartiality is Not Uncommon in Paxton Trial

The impartiality of senators in the trial has been a contentious issue, given Paxton's past role as a senator and his wife's current position in the chamber, along with their connections to other senators.
The Senate disqualified Senator Angela Paxton, the attorney general's wife, from voting in the trial, citing a conflict of interest. Paxton's lawyers argue that if Senator Paxton is required to step aside, senators who have displayed bias against the attorney general should also be disqualified.
However, Paxton's lawyers seem to overlook Senator Bryan Hughes, Paxton's former roommate and longtime friend.
In August 2020, Hughes found himself aiding the Attorney General, when Paxton tried to help Paul avoid foreclosure sales of properties, according to a House investigating panel.
Hughes is referenced in Paxton's articles of impeachment as an unwitting " straw requestor" for an attorney general's office legal opinion that helped Paul – the rushed legal opinion said foreclosure sales should not continue if potential bidders would be excluded by COVID-19 restrictions.
Shortly after, Paxton got a house remodeled by Paul in exchange for intervening in legal proceedings for him.
Amid Paxton's lawyers' attacks, the Texas Senate is also facing a lawsuit from Houston conservative activist Steve Hotze, a Paxont supporter. The lawsuit argues that trial rules unfairly singled out Angela Paxton because impeachment is an inherently political process, rife with potential conflicts of interest.
"Despite the fact that every senator and the Lieutenant Governor arguably have a conflict 'personal or private' interest in the impeachment proceeding and/or biases for or against General Paxton, Rule 31 targets one individual, Senator Angela Paxton, and the voters who live in Senate District 8," the lawsuit said.
The lawsuit also challenges the gag order that Patrick issued Monday, saying it violates free-speech rights.