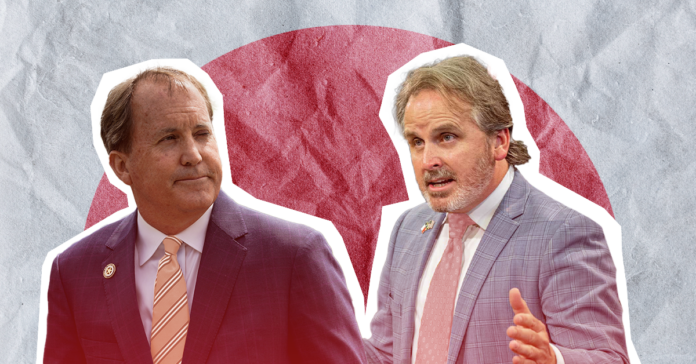 Familiar ties with the suspended Attorney General, Ken Paxton, during his upcoming impeachment trial, is not unfamiliar.
While the Texas Senate voted to keep his wife, Sen. Angela Paxton (R-McKinney) from voting, the same cannot be said for Sen. Bryan Hughes (R-Mineola), Paxton's former roommate and longtime friend.
Hughes first came to the state Senate in 2017 and moved into a condo two miles from the Capitol, his landlord and roommate was also his close friend, Paxton.
Hughes stayed in at least two of the properties in Austin under investigation as a part of a broader look into Paxton's finances by the House investigating committee. Those places are subjects of subpoenas, the reasons for those subpoenas are unknown.
A good portion of the 20 articles of impeachment against Paxton involved his connection to Nate Paul, a real estate developer based in Austin. In August 2020, Hughes found himself in the middle when Paxton tried to help Paul avoid foreclosure sales of properties, according to a House investigating panel.
According to the panel, Paxton used Huges to formally seek the attorney general's opinion as a "straw requestor," he then rushed legal opinion that said foreclosure sale should not continue if potential bidders would be excluded by COVID-19 restrictions.
Paxton got a house remodeled by Paul in exchange for intervening in legal proceedings for him, House investigators said. An ongoing FBI investigation is based on those bribery allegations.
Due to his involvement as the "straw requestor," Hughes could be forced to testify as a witness in the trial, where he will sit as a juror — this will be allowed under the peculiar set of rules adopted by the Senate.
As bound by the Senate rules that prohibit senators from discussing the case, Hughes declined to address his involvement in the Paxton-Paul foreclosure allegation.
"I'm not allowed to comment on the merits of the impeachment or the trial process," he told the Statesman.
In 2016 during an interview with the American-Statesman, Hughes called Paxton a "friend" and defended him as "squeaky clean" when he was indicted – and remains — in Harris County.
Nonetheless, seven years later, Hughes vowed to be an objective juror.
"I can tell you we're going to follow the law and we're going to follow the constitution," Hughes told the Statesman.
The three-term incumbent was impeached by the Texas House on May 27, by a vote of 121-23 and is currently suspended without pay.
A longtime Paxton ally, Lt. Gov. Dan Patrick, is the presiding officer for the trial is due to start on Sept. 5, 2023 at 9:00 a.m.