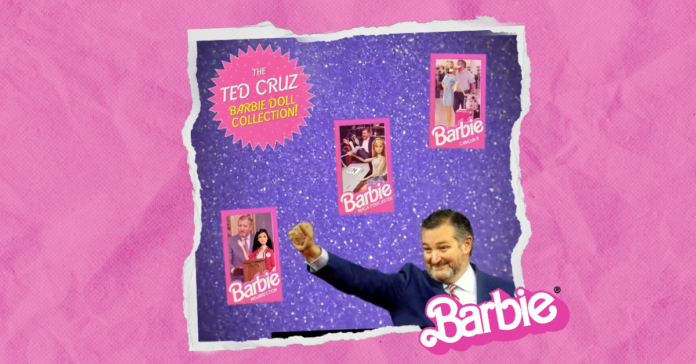 There is a new Barbie collection of Ted Cruz, inspired by your favorite moments of the Senator, including Ted Cruz in Cancun!
The anti-Ted Cruz group, "Lose Cruz" made fun of the Senator on Twitter, releasing a mock commercial announcing their new "Ted Cruz doll collection."
"Since Ted Cruz is more focused on attacking Barbie than doing his job, we're launching a new collection of Barbies inspired by his (lack of) work!" says the caption of the video posted on Twitter.
Some of the barbies inspired by Cruz are: "Insurrection Barbie", which is trying to destroy democracy, "Podcaster Barbie" promoting MAGA agenda, and "Cancun Barbie", where he abandoned his responsibilities.
The tweet received a lot of likes, and even Cruz quoted the original video: "Can I get this one for real?"
A few weeks back, Ted Cruz criticized the Barbie film for including the "nine-dash line" of the South China Sea in a map appearing in the movie's trailer. This is a marker that China has used to assert its territorial claims to the area. These claims were declared invalid under international law by a United Nations tribunal in 2016. Vietnam banned the film because of the map.
"China wants to control what Americans see, hear, and ultimately think, and they leverage their massive film markets to coerce American companies into pushing [Chinese Communist Party] propaganda — just like the way the 'Barbie' film seems to have done with the map," said Ted Cruz's representative.While the "Lose Cruz" is criticizing the Senator for not focusing on the problems that Texans are facing currently, Cruz is tweeting about banning the "Latinx" word.