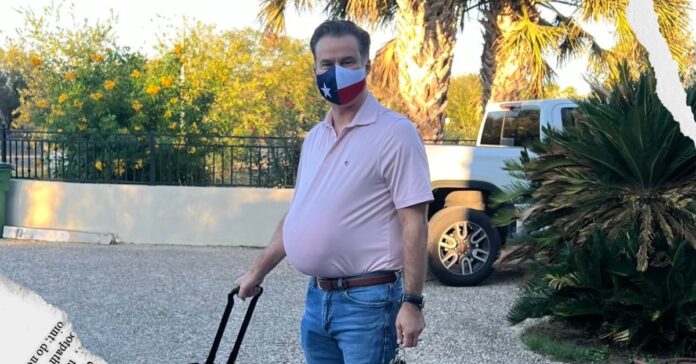 If you think of something scary or disgusting, probably two or four images will come to your mind before you come across the horrendous image of Sen. Ted Cruz. This is the thought experiment that led Texas Sen. Roland Gutierrez to dress up like Ted Cruz for Halloween.
"I was thinking about the scariest Halloween costume and quickly found one: Senator who flees to Cancun," Gutierrez wrote on X/Twitter and attached a photo of his costume featuring Cruz's Texas mask, his luggage, and beer belly.
The costume mocks Cruz's outfit in 2021 at the airport when he decided to go on vacation while Winter Storm Uri was hitting Texas. The storm resulted in 246 deaths and caused severe power outages.
For the costume, Guterrez even hid a pillow under his polo to make his belly appear bigger. "If I had any advice for Ted, I would say he needs to cut down on the Bud Lights a bit. I know how much he likes to drink Bud Light," Guterrez told the Chron in reference to Cruz's urge for an investigation against the beer company for partnering with Dylan Mulvaney, a transgender activist.
Currently, Guterrez is set to announce his run against Cruz, who is seeking reelection in 2024.