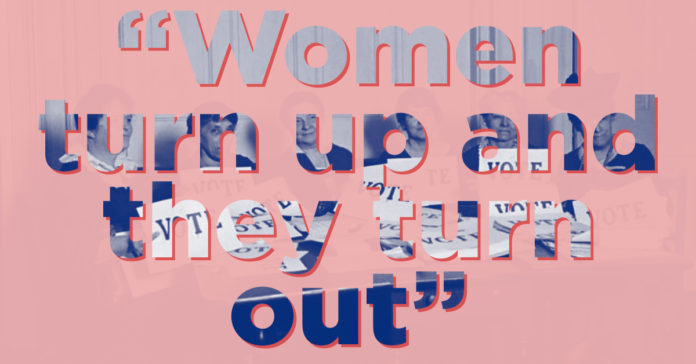 With Texas edging closer to battleground status the party that takes the state could be the party that captures the most votes among moderates and independents.

That's why Democrats and Republicans are scrambling to win over women, particularly suburban women who scrupulously fit those categories.

So next year, as the nation celebrates the 100-year anniversary of the 19th Amendment, which gave women the right to vote, it well could be women who have the loudest voices in choosing the next president and other officeholders.

In the 2018 midterm election, 55 percent of women voted compared with 52 percent of men, according to the U.S. Census Bureau.

Turnout varied among age groups, with 68 percent of men over age 65 voting compared to 65 percent of women in the same age group. But turnout for 18-29-year-old women was 38 percent compared to 33 percent of men in that age group, according to the data.

In Texas, the results were similar. Women turned out at a rate of 51 percent compared to 49 percent for men, according to exit poll data of 2,431 voters from CNN.

"Women turn up and they turn out," Cecile Richards, former president of the Planned Parenthood Federation of America, told the Texas Tribune.

Richards, daughter of former Democratic Texas Gov. Ann Richards, is a political activist and organizer who recently co-founded Supermajority — a progressive organization that supports women running for office.

Supermajority also advocates for voting and gender equity. Richards' organization is one of many that helped turn the 2018 midterm elections into "the year of the woman."

Although the phrase "year of the woman" dates back to 1992, when 54 women were elected to Congress, the 2018 midterms showed just how powerful women can be. When all was said and done, more than 100 women were elected to the House and Senate, collectively.

And women didn't just win at the federal level; they also made sizable gains in down-ballot races. In Texas, 40 percent of women who ran for Congressional, judicial and other statewide offices were elected, according to Texas Tribune data analysis.

Women running in local races racked up even more victories, resulting in more women serving in the Texas House and local offices. In Harris County, 17 black women were elected as judges as well as Lina Hidalgo, the first woman ever to be elected as Harris County Judge.

Democratic women out-performed Republican women to gain 34 seats in the Texas Legislature and Congress, while 16 Republican women won seats on the Railroad Commission, State Board of Education and the Court of Criminal Appeals, according to the Texas Tribune data analysis.

The Democratic victory included the pickup of the Texas Senate District 10 seat in one of only a few genuine swing districts in Texas. The Tarrant County seat, formerly held by Democrat Wendy Davis, flipped with the election of Republican Konni Burton in 2014.

Burton lost to Democrat Beverly Powell in 2018, an election that seated 12 additional Democrats in the state House and two more Democrats in the Senate.

"Suburban women in my district are looking for leaders who understand the need to invest in schools," Powell said in an interview. "I saw that in my race in 2018 and the constituents I speak with are looking for the same type of candidates as we approach 2020."

The lopsided victories of Democratic women over Republican women have leaders of both parties feverishly trying to recruit women candidates in the hopes of winning over more women voters.

"We know we can't just rely on our base to win," said Randan Steinhauser, co-founder of an Austin public relations and political communications firm.

Steinhauser previously worked for former South Carolina Gov. Mark Sanford and U.S. Sen. Jim DeMint.

For a long time, Republicans set the agenda in Texas but that has started to shift in "the age of Beto," she said.

"Winning over suburban women is most important," she said. "That's why candidate recruitment is so important. Women don't only vote for women but they respond best to a messenger who can relate and talk about the issues that are important to them."

Harris County Democratic Party Chair Lillie Schechter said the strategy of Democrats in Harris County and in Texas as a whole is to continue partnering with organizations such as Annie's List to recruit strong women candidates.

To appeal to women voters, Schechter said the strategy is to build on the groundwork laid in 2018.

"Momentum is on our side," she said. "The electorate is changing. Voters are younger and more diverse. They are fed up with the corruption at the White House and even the State House.

She added that one of the key Republican strategies in the next election cycle is to "continue to let Trump do what he is doing and we'll focus on healthcare, immigration, and education."

By basing the campaign on so-called "mom issues," state Republicans hope to "sidestep the 'top-level heated rhetoric'," Schechter said.

"We are staying focused on issues that are favored in Texas, like the appointment of judges, the economy, jobs and … quality education for kids."