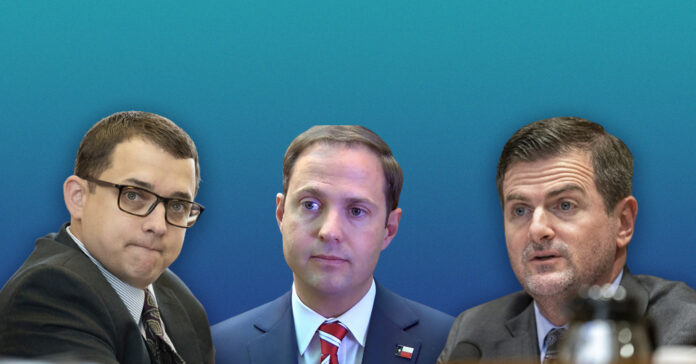 Three Texas Republican lawmakers are trying to convince the state supreme court to enforce criminal penalties under a 1925 abortion law.
State Reps. Brisco Cain (R-Webster) and Dustin Burrows (R-Lubbock) and state Sen. Brandon Creighton (R-Beaumont) are lobbying their colleagues to support criminal prosecution of people who perform abortions in Texas for up to two years in prison. The canvassing for support is based of a legal opinion from Texas Attorney General Ken Paxton, who said that the state supreme court could proceed with prosecutions based on trigger laws that went into effect when Roe v. Wade was overturned by the U.S. Supreme Court earlier this year.
In the document that Cain, Burrows, and Creighton have been passing around, there is a space for state representatives and senators to confirm agreement. It's unclear if any more have signed onto the document yet, but considering that radical anti-reproductive freedom has been a consistent litmus test for the Texas Republican Party this primary season, it's likely the majority of Republicans will do so.
Though abortion is now technically illegal in the state of Texas, the move to further codify the ban likely comes from a reaction by Democratic-controlled cities in red states. Several cities, including Austin, have vowed to decriminalize abortion within city limits. The Grace Act is on a fast-track with the Austin City Council to keep reproductive health available. Travis County District Attorney José Garza has already said he will not prosecute people for abortions.
This is likely to put cities in Texas who try to protect abortion access in the crosshairs of Republican-controlled state politics. The "bounty hunter" law that allowed residents to sue someone for up to $10,000 plus court costs for helping someone acquire an abortion is still in effect, and the City of Austin will almost certainly be sued under it for their actions.
This will likely lead to another push in the next legislative session to clarify abortion law in a post-Roe world where reproductive choice is no longer a constitutional right. The actions of Cain, Burrows, and Creighton imply that they will be making an effort to set a new criminal standard for abortion in Texas after the midterm elections.
Even if new laws are not passed, existing ones will have a dire effect on abortion access. Various activist groups and funds in the state have already begun turning people seeking medical care away because of fears they could be sued or imprisoned under the new legal framework. Even as President Joe Biden moves to protect the mail delivery of abortion drugs and the freedom of movement between states to obtain an abortion, activists fear the legal repercussions of the state.
The reproductive health system in Texas has been severely hamstrung thanks to the overturning of Roe v. Wade. Texas Republicans are now seeking to new ways to legally harass and punish people seeking or providing care, putting networks for acquiring medical service in difficult legal positions. That will only get worse if Caine, Burrows, and Creighton get their way.