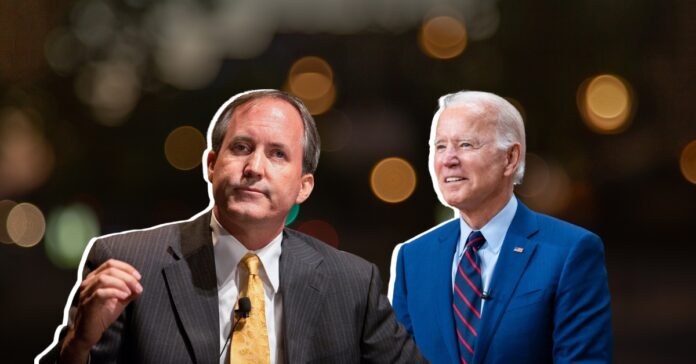 Texas Attorney General Ken Paxton filed yet another lawsuit on Thursday against President Joe Biden, saying the administration "seeks to further its open borders policy by enacting a new agency rule that effectively nullifies federal law excluding aliens likely to become public charges."
This latest suit, filed in a U.S. District Court in Victoria, claims that Biden is trying to sidestep a federal law that prevents immigrants from obtaining a green card
It is seemingly in response to Biden's announcements this week regarding efforts aimed at relieving the pressure from the press of migrants at the southern border by accepting qualified migrants for processing, rather than leaving them massed on the streets in cities like El Paso.
In 2019, the Trump administration expanded a rule to allow immigration officials to deny permanent resident status, also known as a green card. A green card gives migrants "permanent" status, meaning they are not on short-term work or university study visas. That status would enable them to receive some government benefits if they are deemed eligible to do so.
Contrasting that harsh stance, the Biden administration created a rule based on definitions from a 1999 policy late last month that would allow for more flexibility.
Paxton's 24-page suit accused Biden's White House of making its version of the rule, which went into effect Dec. 23, too lenient, as it only considers any cash benefits, but not future government benefits that an immigrant may need if admitted into the U.S.
Since Biden took office two years ago, Paxton has sued the administration more than 20 times, with most of the lawsuits focused on immigration policies, and most have been filed in courts where Trump-appointed judges rule.
"The sum of the 2022 rule's changes are seemingly intended and designed to ensure — and will ensure — that virtually no alien is ever found to be a public charge," Texas' suit reads, referring to immigrants lacking permanent legal status.
Paxton's lawsuit asks the federal judge to halt the use of the new rule and defer to the Trump version.
Under the stricter Trump-era rule, out of 48,000 applicants, not one — including children — was ultimately considered to be a "public charge," according to the Department of Homeland Security. This meant that once they arrived, they could not receive any government assistance, regardless of the reason for their immigration, including asylum seekers fleeing violence, persecution, and poverty.
And in a separate suit, Paxton is seeking to intervene in the case and defend Trump's version of the rule, which the Supreme Court justices are set to discuss at their conference Friday, according to the Houston Chronicle.
Paxton's office had Texas join an Arizona-led lawsuit that has forced the Biden administration to continue enforcing Title 42 and expel migrants to Mexico without allowing them to claim asylum.
This, of course, is a hot-button issue to anti-immigration Republican politicians, who prey on the fears of their base, blaming illegal immigrants for everything from Democrats winning races, to crime rates, to the fentanyl epidemic.
"The Biden administration is committed to opening the borders to aliens who lack the ability to take care of themselves. Texans should not have to pay for these costly immigrants, nor should any other American," Paxton said in a statement. "I will continue to defend the rule of law and fight to ensure that the massive costs of illegal immigration don't further burden taxpayers."