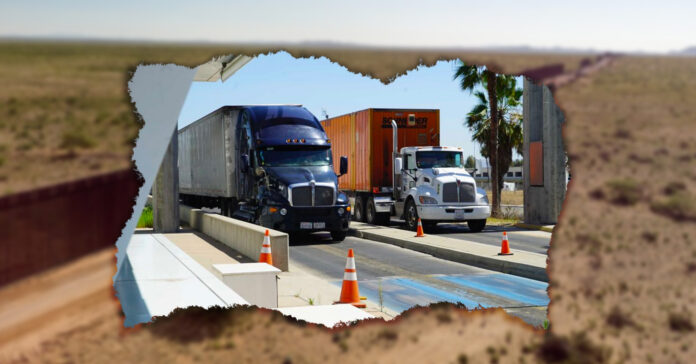 Gov. Greg Abbott's state inspections on commercial vehicles entering Mexico last week, caused a negative ripple effect on local commerce and the Texas economy, while not even causing a dent in preventing illegal immigration – what it was initially intended for.
Last week, the Governor directed state troopers to inspect trucks crossing through Texas' biggest ports of entry for human trafficking, weapons, and drugs. The inspections were in addition to those already performed by federal customs authorities.

Every day at the terminal, thousands of trucks passed through to drop off tons of Mexican-grown fruits and vegetables, with the inspections clogging up hundreds of trucks, suppliers were forced to shift their import routes to other ports of entry outside Texas, produce spoiled en route and warehouses sat empty.

In McAllen, one of the Rio Grande Valley's busiest trade posts with Mexico, Abbott's directive hit them hard. According to The Texas Tribune, long lines at the Pharr-Reynosa International Bridge left truckers waiting to cross for days massively affecting their supply chain.
"The merchandise comes from Mexico and by the time it crosses it can go bad, and those are losses," said Gustavo Garcia, a floor manager for Trinidad Fresh Produce, a distributor at the terminal.

The stack of rotten produce grew taller, and many were discarded. Garcia said he doesn't know if retailers will still want to buy the aging produce he keeps, but if they do, the price will be marked down at least 30%, as reported by The Texas Tribune.

Even though Abbott ended the policy on Friday, the disruption caused by the inspections will likely have lingering impacts.

Abbott said he recognized the inspections were causing economic hardship on both sides of the border, but that securing the border was more important.

"There is the expectation that the Mexican states that I've negotiated deals with will do what is necessary to reduce illegal immigration, and there's the consequence that if not, the 100% inspections will be reinstated and they may have knock-on economic effects," Abbott said. "We are going to do what is necessary to make sure that we have safe and secure borders."