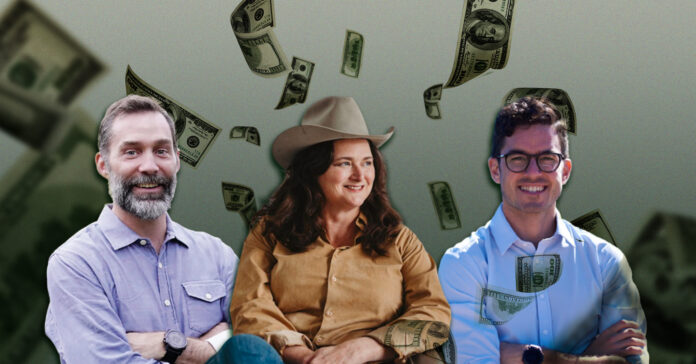 While Republicans have dominated state races for nearly three decades, Democrats have reason to hope for wins in some statewide elections this month. They have been outraising their primarily incumbent opponents for months and continued to do so in the fundraising period that just ended.
But with a week to go in the election cycle, recent history reminds us that dollars don't vote — people do. 
While most of the ads seen this campaign season are for the gubernatorial race between Gov. Greg Abbott and Democratic challenger Beto O'Rourke, other ads target oft-indicted Texas Attorney General Ken Paxton for his misdeeds. Some ads have targeted both men plus Lt. Gov. Dan Patrick and other incumbent Republican officeholders.
Three other important state races are also on the ballot, but TV ads for these offices do not appear as often. However, the fundraising numbers again favored the three Democratic challengers for the period starting September 30 and ending Oct. 29.
Railroad Commissioner
Democrat Luke Warford is blowing away the Republican incumbent Wayne Christian in a lopsided fundraising battle for the job of Railroad Commissioner, which oversees the oil and gas industry in the state. Warford raised a whopping $201,545 compared to just $88,442 in the most recent period.
Warford also outspent the incumbent, $308,533 to $21,110, but has a smaller warchest, $206,498 to $312,241, with ten days out from election day.
For decades, Christian has campaigned using a slogan that referred to his last name: "Remember to vote for the only Christian on the ballot."
Given the double entendre nature of the phrase, Christian's campaign said they will stop using the slogan after being criticized by Warford, who is Jewish. Christian claimed he did not know about Warford's religion.
Agriculture Commissioner
In the Agricultural Commissioner race, incumbent Sid Miller was again outraised by his Democratic opponent Susan Hays in the same period $77,578.27 to $62,750.00. Hays also outspent Miller, $114,028 to $21,514, but has a smaller warchest, $32,330 to $205,846.
Even though the race is not receiving as much media coverage as other top state races, Miller is a long-time arch-conservative, while Hays is an equal rights lawyer, and they have both run heated campaigns. Despite both being from Central Texas, the two candidates could not be more opposed politically, and Hays has said that her opponent is not qualified to hold the office.
"He's just not suited for public office and not suited for this management role and outreach role that this office demands," Hays said in a recent Texas Tribune article. "He's proven himself to not be trustworthy."
Land Commissioner
In the race for the open seat of Texas Land Commissioner, Democrat Jay Kleberg outraised Republican Dawn Buckingham by $625,893.40 to $581,197.58 in the latest round of campaign fundraising.
He also outspent her, $1,383,724 to $695,893, but has a smaller warchest, $127,648 to $501,481, with a little over a week to go to Election Day. His ability to self-fund his campaign, as seen with his $100,000 loan to his campaign, remains a strength.
Kleberg is a former Associate Director of the Texas Parks and Wildlife Foundation. State Sen. Dawn Buckingham represents the Lakeway area of Travis County.
The position heads the Texas General Land Office, which is the oldest public agency in the state, and it manages public land across the state, helps to preserve the state's wildlife, and manages one of the funding sources for public education.
Early voting continues through this Friday, Nov. 4, and Election Day is next Tuesday, Nov. 8.