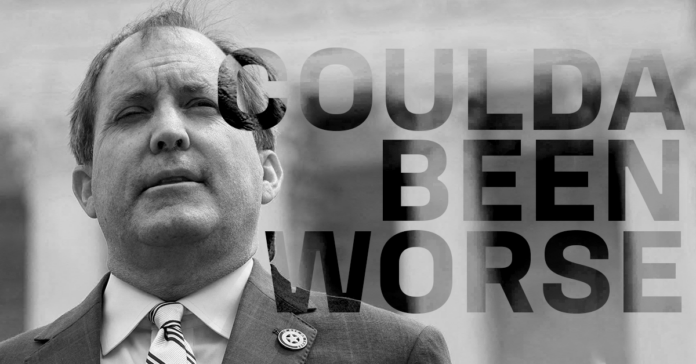 A new political ad entitled "And One Man" appeared on TV this week targeting Attorney General Ken Paxton, without mentioning his name. Instead, his infamous legal troubles are used to identify him.
The anonymous PAC called Coulda Been Worse LLC – which references a comment Gov. Abbott made at a press conference after the Uvalde shooting – has produced and aired an ad reciting the litany of past and present felony criminal charges pending against Paxton.
The ad, which is posted on the group's website, starts much like the earlier ads, identifying Gov. Greg Abbot, Lt. Gov. Dan Patrick, and Paxton as "Three troubled men…," before stating the focus of the ad — "Let's consider just one," — Paxton.
The ad then cites the FBI's investigation into Paxton for alleged abuse-of-power charges made by eight top aides who reported him to federal law enforcement authorities for using his state position to help donors.
Five of the eight former aides were subsequently fired, which appears to be a violation of the Texas Whistleblower Act. The other three resigned.
The FBI is looking into Paxton's relationship with Nate Paul, an Austin-based real estate investor who donated $25,000 to his campaign. The complaint claims he received free home remodeling services and was able to get a woman alleged to be his mistress a job in Paul's company.
The voice-over narrator then cites the incident in late September when Paxton fled his home in a truck driven by his wife, state Sen. Angela Paxton. He did so to avoid being served a subpoena requiring him to testify at a hearing in a lawsuit filed by abortion rights groups.
The narrator continues "Our crime problem in Texas starts at the top…too bad we can't report these crimes to the chief law enforcement officer," referring to Paxton's elected position.
According to court records, the process server identified himself at Paxton's home and waited outside the house to hand him the subpoena. But Paxton claimed he had to flee because the server, Ernesto Martin Herrera, was acting "suspicious and erratic" and did not make his intentions known.
Paxton then tried to call his fleeing the scene a "made-up controversy."
The suit filed by abortion rights groups is aimed at preventing state prosecutors from pursuing charges against nonprofits providing financial and other aid to Texas women seeking abortion services out of state where abortion is still legal. They are suing him, and local district and county attorneys.
This most recent ad leaves out the story that details how Paxton still found time to interfere in Georgia's attempts to hold Trump and others accountable for their efforts to overturn the legitimate 2020 presidential election in their state.
Despite his myriad legal woes, Paxton still leads his Democratic challenger Rochelle Garza. However, Garza raised $100,000 of additional campaign contributions in just two days after the incident became a nationally covered scandal.
The attorney general's race is one of the most competitive in recent memory, as statewide polling shows the current margin to be in single digits. All three Texas top officials face tough opposition this year.
Abbott is in a tight race with Democratic gubernatorial hopeful Beto O'Rourke. Dan Patrick faces a GOP-endorsed Democratic challenger in Houston accountant and businessman Mike Collier.
A previous ad attacking Abbott, Patrick and Paxton began with the words: "Three men. Inordinate power. A governor. His lieutenant. Their lawyer," over an ominous music soundtrack.
"Three men," the narrator continued, "said women in Texas have no right to control their bodies. No freedom to decide. Three men supported a rapist getting ten years, while the woman he raped, gets marred for life."
"Three men believe a young daughter must carry her father's baby," while the words, "no options for incest" move across the screen, all superimposed over images of Abbott, Patrick and Paxton.
"Three men chose to criminalize abortion," the narrator concluded.
The group targeted Abbott specifically in a prior ad, citing the 2018 Santa Fe, 2019 El Paso, and 2022 Uvalde school shootings, saying that "AR-15s everywhere, for everyone, even 18-year-olds."
They also cited the Texas power grid failure during the deadly winter storm of 2021, and the billions in revenue lost from Abbott's border shutdown for DPS inspections, which yielded almost no meaningful results.