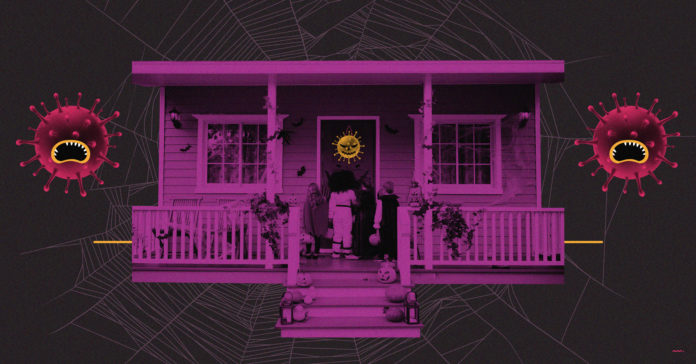 If you live in El Paso, don't expect to see a little witch or ghost at your door asking for candy this year. The dramatic surge in COVID-19 cases and hospitalizations in the border community are the reason why. 
"We don't want door-to-door trick or treating. Period," said El Paso Mayor Dee Margo at a news conference in her city last week.
Trick-or-treating is also banned in Hidalgo county this year, and a permit is required to hold lower-risk Halloween festivities. 
In Houston, trick-or-treating is not banned, but people are being discouraged from gathering in large groups.
"This requires us to be smarter about how we trick-or-treat. Families and children can still have a ghoulish good time without jeopardizing their health and safety during the pandemic," said Houston Mayor Sylvester Turner.
Most Texas cities are urging residents to follow the Centers for Disease Control and Prevention guidelines which rank traditional Halloween activities as high-risk for spreading COVID-19.
"Regardless of your Halloween plans, parents should incorporate a cloth mask into theirs and their children's costumes, in place of or in addition to the mask that may come with a Halloween costume," said Dr. Stanley Spinner, vice president and chief medical officer for Texas Children's Pediatrics. "Wearing a mask is one of the best safety measures we can take to prevent exposure of COVID-19 and reduce community spread."
What about candy?
Spinner said candy itself is not unsafe, but "what is not safe or sensible is having many multiple hands grabbing candy out of the same bowl (or ringing doorbell after doorbell, for that matter)."
"The traditional process of walking up to someone's door and having candy given to the parent/child standing directly in front of them is not safe considering the lack of social distancing involved."
As an alternative to typical trick-or-treating, place individually wrapped treats on a table outside, so trick-or-treaters can pick up goodie bags at a safe distance from neighbors and without everyone touching the same bowl.
Scavenger hunts for candy in the backyard, a spooky movie night, a socially distant block party or a virtual costume party are also safe alternatives to traditional festivities.
Need some more ideas for a memorable Halloween? Here you go.