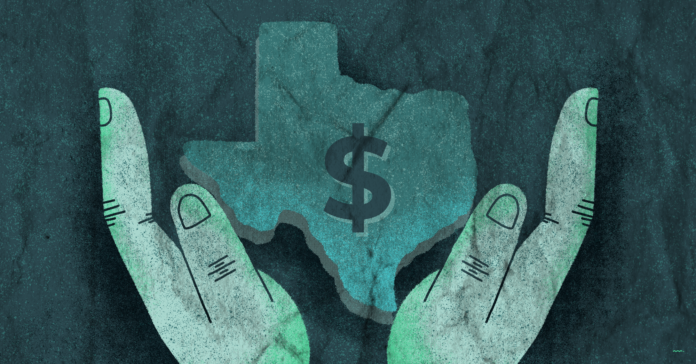 The $2 trillion federal stimulus package signed into law by President Donald Trump on Friday is expected to give Texas tens of billions of dollars to fight the repercussions of the COVID-19 pandemic. This is in addition to the stimulus checks and expanded unemployment benefits Texans can expect.

Disaster Relief

As a state, Texas stands to gain at least $11.2 billion of the federal government's latest COVID-19 stimulus package, largely through a $150 billion Coronavirus Relief Fund meant to aid cash-strapped states and cities in handling increased spending related to the virus.

An estimated $3.2 billion share of the Texas aid from the Coronavirus Aid, Relief, and Economic Security Act (CARES) will go to local governments serving populations over 500,000. In Texas, that would go to the six most populous cities — Houston, San Antonio, Dallas, Austin, Fort Worth, and El Paso — and the 12 most populous counties — Harris, Dallas, Tarrant, Bexar, Travis, Collin, Hidalgo, El Paso, Denton, Fort Bend, Montgomery and Williamson counties.

Because Texas was granted a major disaster declaration last week, the state will be able to tap into the FEMA Disaster Relief Fund, which was given a $45 billion boost from the CARES Act. Texas government officials will also receive $236.8 million from FEMA under the Stafford Disaster Relief and Emergency Assistance Act. 

In addition, Texas will receive funding in the form of community development block grants from a pot of $5 billion, 30 percent of which will go to states. The funding is to help communities respond to economic and housing impacts caused by COVID-19, including the expansion of community health facilities, child care centers, food banks and senior services.

Elections

The stimulus package contains $400 million for election security grants to prevent, prepare for, and respond to COVID-19 in the 2020 election cycle. Advocates estimate about $20 million will head to Texas.

It is unclear how the state will use those funds, but some leaders have been pushing to expand mail-in voting. One of those is Anthony Gutierrez, executive director of good government watchdog group Common Cause Texas, who advocates keeping Texans safe while we vote and register to vote.

"The way to make that happen is to use these funds to implement online voter registration, expand vote by mail, extend early voting, recruit more election workers, and ensure all poll sites meet public health safety standards," Gutierrez told the Houston Chronicle last week.

Many municipalities, given the new authority to move the May 2 elections to Nov. 3, are considering changing the dates to the summer, which would be in line with the July 14 primary runoff date.

Education

Texas schools and colleges, which have resorted to online and distance learning amid the COVID-19 outbreak, will also benefit from the new stimulus package.

From a pool of $30.8 billion in the Education Stabilization Fund from the CARES Act, Texas can tap into the fund in three ways.

First, Gov. Greg Abbott will receive a share of $3 billion for governors to distribute at his discretion to schools and colleges that "have been most significantly impacted by coronavirus."

Second, the Texas Education Agency will be allocated funding from a pot of $13.5 billion for all states to distribute to Texas K-12 schools. An estimated $1.15 billion will go directly to local education agencies under the Elementary and Secondary School Emergency Relief Grants.

Third, Texas colleges and universities will receive a share of $14.3 billion for higher education across the U.S. The allocation for $13.5 billion of that is based on the number of Pell Grant recipients enrolled at colleges and universities and will be given to higher education institutions directly.

Half of the higher education funds are earmarked for emergency financial aid grants to students for expenses related to the disruption of campus operations. These expenses include costs such as food, housing, course materials, technology, health care and child care.

Texas' historically black colleges and universities will receive a share of $1 billion from the Education Stabilization Fund.

The funding for K-12 education comes with strict maintenance of effort requirements. This means the state must maintain an average level of "effort", or funding, for K-12 education based on the last three years for the next two fiscal years.

The CARES Act also includes student loan relief, which suspends debt payments.

Child Care and Child Welfare

With schools closed until May 4, the demand for child care has risen, especially for healthcare professionals and other "essential" workers. The CARES Act has $3.5 billion in funding for child care and development block grants providing immediate assistance to child care providers. Texas child care providers are in line to receive a share of this funding.
Abbott last week waived Texas Workforce Commission regulations to keep child care centers open and preserve and extend capacity for the child care of "critical workers during the COVID-19 response."

In addition, Texas will receive a share of $45 million in grants to the state for child welfare services to support the most vulnerable. This includes family violence prevention services, shelters and $25 million for immediate assistance to programs providing services and housing for runaway and homeless youth.

Health Care

Texas hospitals will get a share of $100 billion from the Public Health and Social Services Emergency Fund in the CARES Act to help them respond to the coronavirus pandemic. The discretion of allocation is given to Health and Human Services Secretary Alex Azar.

Texas state and local health departments can get funding from the Centers for Disease Control and Prevention, which has received $4.3 billion from the CARES Act. This funding will be used for public health preparedness and response. Including in it is $500 million to invest in better public health data surveillance.

According to the left-leaning think tank Center for Public Policy Priorities, the CARES Act provides funding for no-cost COVID-19 testing for all Texans but governors must opt in. This can be done through testing for the uninsured through state Medicaid plans via a temporary emergency expansion. Testing can also be done through the National Disaster Medical System.

Previously, Abbott and the state's Medicaid director were reluctant to entertain a temporary Medicaid expansion to help cover testing for uninsured Texans.

Texas will get a share of $275 million to expand services and capacity for rural hospitals and telehealth services.

Transportation

Texas' mass transit systems will also get a boost from the CARES Act, which has set aside $25 billion for mass transit systems.

Jerome Gray, Executive VP & Chief Communications Officer for the The Metropolitan Transit Authority of Harris County (METRO), in a written response to Reform Austin said, "Rather than speculate on the dollars, we anticipate the FTA [Federal Transit Administration] will inform recipients of the actual amounts this Friday. So we will await that notification."