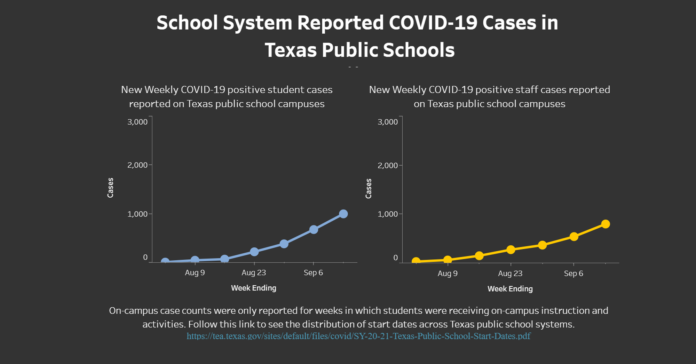 The Texas Education Agency and the Texas Department of State Health Services has unveiled a new webpage for tracking the spread of COVID-19 in Texas public schools. As of Thursday, the number of students who have contracted COVID-19 since school resumed is 2,344 out of a total student population of 1.1 million. The total count of on-campus staff cases during the same period is 2,175.
Right now, the webpage is only displaying the total number of students and staff members who have been infected. Beginning next week, it will expand to include data for individual school districts. The number of student and staff COVID-19 cases in Texas public schools will be updated each week.
TEA previously directed all school districts to submit information about COVID-19 cases going back to the start of the school year. Information is submitted via an online form each Monday by those school systems that were notified in the previous week that a student, teacher, or staff member who participates in any on-campus activity has tested positive for a current COVID-19 infection. Antibody tests, which indicate a previous infection, are not required to be reported.
Frustrated that the state would not be reporting data by individual schools, the Texas American Federation of Teachers last week launched its own tracking website, which can be accessed here. It shows cases at individual schools.
In addition, the Texas State Teachers Association recently surveyed its members and found hundreds of COVID-19 safety violations. On Tuesday, the group filed its first grievance. The complaint against Killeen ISD alleges teachers and staffers are being forced to work in unsafe conditions.