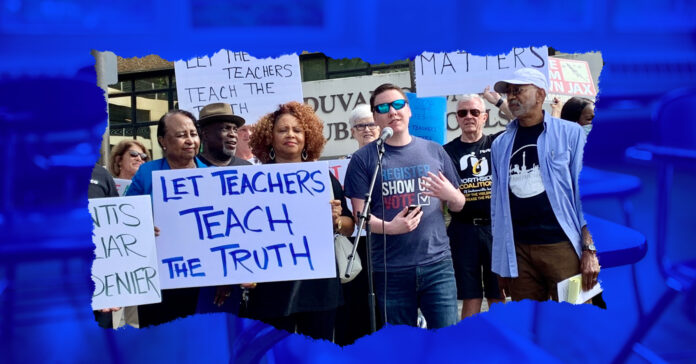 On Tuesday morning a group of about 50 teachers, schoolchildren and advocates gathered in the Capitol Rotunda to call on the state's political leaders to stop book censorship and "whitewashing" history in Texas public schools.

"Knowledge is power," "Teach the truth," "I read because…," and "I want to learn about people's lives who are different from my own." These are some of the messages on the signs the "Teach the Truth Coalition" held at their protest during the House Public Education Committee's hearing, which, in part, focused on "monitoring and analyzing the state policy on curriculum and instructional materials used in public schools."

The protestors gathered just a few doors down from the hearing room, while carrying books that have been banned across the state, and shared their concerns over book banning, which has been seen in some school districts across Texas following the direction of state leaders.

According to KVUE, multiple speakers at the "read-in" shared that they believe these types of policies block access to honest and accurate education. The State is depriving kids of hearing different perspectives they may relate to, said former Austin ISD history teacher, Yulissa Chavez. 
"We're essentially telling them that they don't matter, that if you're not straight, there's something wrong with you," said Chavez. "And I think that's horrible. I think that's absolutely horrendous. We should encourage our students to explore their identities and ask questions that, you know, they may not know, obviously, since they're children. How are they supposed to navigate a world where they're not welcome to navigate it? It doesn't make sense."

The war on school programs and classroom lessons does not only focus on LGBTQ issues, the debate continues onto the legacy of racism in America. Last year, Gov. Greg Abbott signed into law a measure restricting how social studies is taught in schools. The bill was explicitly crafted by Republican political leaders to stamp out critical race theory, a legal theory that has become a catchall term to describe diversity and equity initiatives as well as discussion of systemic or historical racism, as reported by The Houston Chronicle.

Aislynn Curtis-Brooks, from J. Frank Dobie High School in Houston, took a bus to Austin on Tuesday morning for the event.
"They're just trying to sugarcoat the fact that slavery was a thing," she said. "And Black people need that source of history so they can become themselves. Because if they don't have that type of history, then they're not going to understand themselves at all.
The right maintains that during the initial COVID-19 lockdowns, parents noticed the public school system has a "leftist bias" as they helped their children navigate virtual learning at home.

So they set out to "fix it"… Over the past year, Republican politicians and right-wing community members have launched an all-out attack on school administrators and teachers over mask mandates, transgender rights issues, critical race theory, and the alleged presence of pornographic books in school libraries.

The state House Public Education Committee met all day to discuss how to further "parental choice" in schools ahead of next year's legislative session – the first item on the agenda was: "identify and examine efforts to ensure that parents have a meaningful role in their children's education."

According to The Houston Chronicle, more than 100 witnesses registered to speak. The main source of the parents' concern was how the tone of the curriculum in public education has changed over time.

"They're focusing on social justice, CRT, SEO (Social-Emotional Learning) and every acronym in the book. They're focusing on feelings ahead of facts," said Jena Masquelier, from Frisco. "We didn't come to complain, we came to ask them to return to basics."