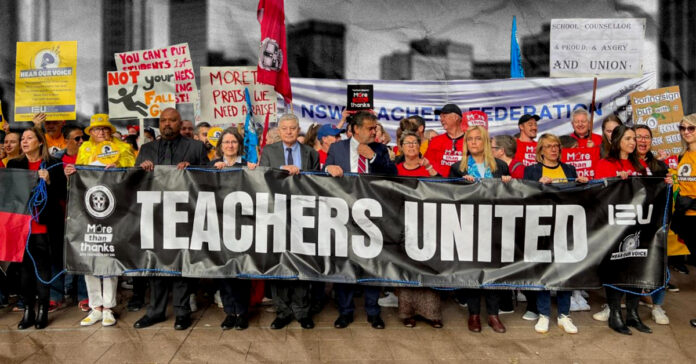 Throughout American history, teachers have leveraged strikes as a potent tool to champion their needs, tackling challenges like insufficient compensation, safety concerns, and overall well-being. Texas, however, has consistently remained on the sidelines due to legal restrictions.

A Texas state law, Title 6, Subtitle A, Chapter 617 of the Texas Government Code, prevents public employees from participating in a strike or any other "organized work stoppage."

If teachers were to participate they could lose civil service rights, reemployment rights, and any other rights, benefits, or privileges they enjoy as a public employee. Losing these could mean having their teaching license suspended or revoked, and their access to the Teacher Retirement System denied.

Trio of U's

In recent years, Texas teachers have found themselves trapped in the trio of the three U's: underappreciated, underpaid, and understaffed.

From navigating the grim specters of school shootings to grappling with the COVID-19 pandemic, and wading through contentious "woke wars" with parents, whilst the idea of vouchers breathes down their necks, public schools in the Lone Star State are suffering.

Texas ranks 28th in the nation for teacher pay, $7,652 less than the national average, according to the latest National Education Association report. In addition, the state ranks in the bottom 10 nationwide for per-student funding, coming in at $4,000 under the national average. The basic allotment has not increased since 2019.

This stew has been brewing for years, but things reached their boiling point since the 88th Texas Legislature failed to pass major public education funding, despite having a historic budget surplus of $33 billion.

The only school funding bill with potential, House Bill 100, which would have provided modest raises and an increase in the basic allotment, died in the House due to Gov. Greg Abbott's commitment to school vouchers – an endeavor that has been met with significant resistance in the House since the idea first arose in the 1950s.

"Historically rural Republicans have been champions of public education and voted against "school choice" bills," Claire Campos O'Neal, President of the Del Valle Education Foundation told RA news. "It deeply saddens me to think that they would even consider public education (schools that admit and serve all Texas students) as a bargaining chip"
In the face of these challenges, the question arises: If given the choice, wouldn't Texas teachers also consider staging strikes to advocate for the improvements they so direly need?

To Strike Or Not To Strike

In 2018-2019, Teachers in states across the nation went on strike to protest funding cuts for public education, but Texas remained on the sidelines. Teachers and advocates felt silenced and unimportant.

"Not being able to go on strike makes me feel like educators do not have a voice in the way the Legislature has handled our pay and retirement system," Christine Mauer, an instructional assistant for Leander Independent School District, told The Texas Tribune at the time.

"It says a lot about how the lawmakers and supposed 'representatives of the people' feel about public education when they continually and systemically do not properly fund our education system. The future of our state is in the hands of the educators in this state."

Several Texas teacher associations encouraged members to refrain from leaving their classrooms and going on strike since a lot more than their job was on the line.

"Teachers in Texas have a pension," Paul Tapp, the managing attorney for the Association of Texas Professional Educators, said at the time. "That's a benefit that they have because of their public employment, so we've always warned teachers that when it comes to going on strike, there's a risk beyond losing their jobs."

So, teachers stayed indoors while the nation struck, and their situation has shown little improvement since. These dedicated professionals currently find themselves in a difficult position, unable to exercise their right to strike out of fear of retaliation, yet compelled to exit their careers due to the challenging conditions they endure.

A survey conducted by the Texas American Federation of Teachers revealed a pressing exodus crisis is gripping the state: a staggering 66% of educators contemplated leaving their roles in 2022, due to low pay, stress, and workplace safety.

"I really don't want to leave my teaching job, but it's becoming untenable in a lot of ways," Amanda, a teacher in North East ISD, told Texas AFT.
The Only "Loophole"

If we consider rallying is out of the question: What steps can Texas teachers take to become more engaged and advocate their needs?

Texas State law that prohibits public employees from going on strike only applies to those participating in organized work stoppages, not individuals demonstrating independently. Demonstrations often occur during teachers' own time, such as during legislative sessions.

Teachers can contact legislators, write to local newspapers, and testify at the Capitol. 
Instead of striking, Texas teacher associations are focusing on leveraging their voting power during elections to support education-friendly candidates. The aim is to build political influence and advocate for increased funding, reduced testing, and opposition to vouchers in the education system.
The perfect time for teachers to become involved could actually be around the corner. Gov. Greg Abbott has touted a special session for education in October, also highlighting the need to address "school choice."

"The House and Senate have done a great job this session already to provide transformative changes in education in the state of Texas," Abbott said.
"They've done a lot of good, to be clear, but we're not done yet. We all know that in addition to the changes I'm about to send into law, we need to deliver on the promise to parents that parents will have the ability to choose education pathways best for their child."
In June, Texas House Speaker Dade Phelan announced the House Select Committee on Educational Opportunity and Enrichment which focuses on issues that "broadly affect educational opportunities for K-12 students in Texas," according to a press release.

The committee was assigned the responsibility of presenting an initial report on potential alternatives for enhancing educational opportunities for students in grades K-12. The report was released on August 11th.

The report laid out recommendations for the teacher workforce, school choice, teacher pay raise, increase in basic allotment, and student outcomes.

It remains to be seen if a decent public education funding package will be passed or if Gov. Abbott will take every prospect hostage just to pass school vouchers – again.