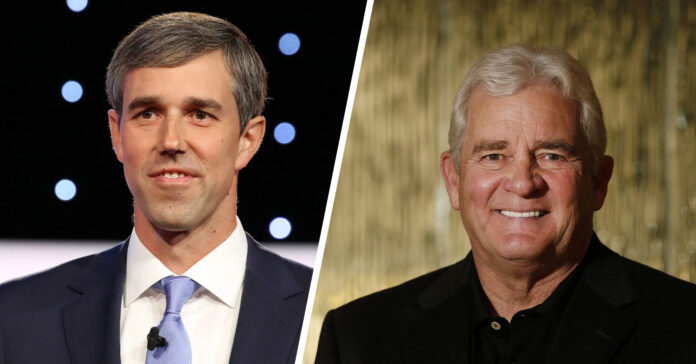 Remember last year when Gov. Greg Abbott's biggest donor sued gubernatorial candidate Beto O'Rourke for defamation, slander, and libel? Well, that's still going on.

Last April, O'Rourke's lawyers also filed a motion for dismissal, and last week it was denied. The reason? According to Dmagazine, it has to do with the location in which Kelcy Warren filed the suit – his hometown of San Saba County which is pretty much right in the center of the state, and about three-and-a-half hours from Warren's Dallas house.

The lawsuit seeks more than $1 million in damages, alleging that O'Rourke is trying to "publicly humiliate Warren and discourage others from contributing to Gov. Abbott's campaign."

O'Rourke has been calling out Abbott ever since the deadly Winter Storm Uri hit Texas and the grid failed – causing the state to suffer from harsh temperatures.

"We are all paying the price for this guy's corruption and his incompetence," said the former Congressman from El Paso.

Shortly after the winter storm, the governor accepted a $1 million dollar donation from Warren, who is the chairman of the board at the gas pipeline company Energy Transfer Partners.

Warren's company made an additional $2.4 billion last year thanks to the storm Uri, when the state's grid manager pushed power prices sky-high to end rolling blackouts.
O'Rourke has said energy companies have essentially paid Abbott off for not holding them accountable, claiming he is just "connecting the dots" for people so they can see how Abbott has received generous donations from companies that profited off the disaster – Energy Transfer Partners made an additional $2.4 billion when the state's grid manager pushed power prices sky-high to end rolling blackouts.
The court filing blames O'Rourke for damaging "Warren's reputation and exposing him to public hatred, animus, contempt or ridicule, or financial injury."

O'Rourke's legal team at Brazil & Dunn in Houston filed for a change of venue to El Paso in March, arguing that Warren's primary residence is Dallas, and that the billionaire was looking for a friendlier court, as reported by Dmagazine.
O'Rourke's lawyers also asked for a jury trial, provided the change of venue is granted.

Will Warren go through with it?

In a civil procedure, it's up to the plaintiff to make their case. That means that Warren would have to prove that he didn't hand the governor a nice big check after making big profits during a statewide disaster. And that means giving access to O'Rourke's lawyers to poke around while asking Warren and other witnesses about every detail in the timeline leading up to the donation.

"Kelcy Warren is far from the first billionaire to file a lawsuit against someone who says something they don't like. … And even though they're highly unlikely to succeed on the merits, they file them anyway," Evan Mascagni, policy director for the anti-SLAPP advocacy group Public Participation Project, told the Texas Observer in March.

Warren has become one of Abbott's biggest donors. Since 2019, he's given Abbott nearly $1.3 million for his re-election. He is one of Abbott's top four donors since 2019, according to state campaign finance records.