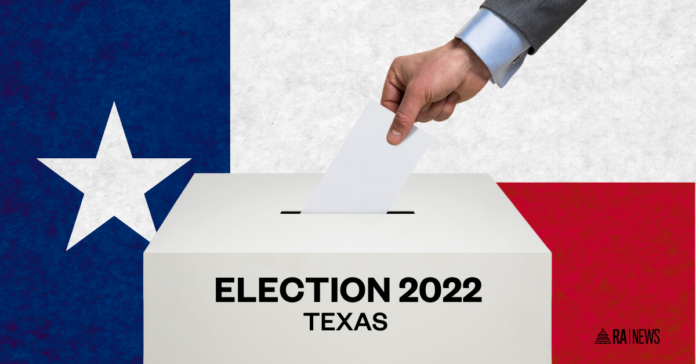 In a highly competitive midterm that saw record amounts of money spent nationally and in Texas, Republicans won the statewide races again, surprising few observers in the ruby-red state.
But in several highly contentious races, Democrats defied the odds and overcame enormous sums of money funneled to Republican opponents to win their county judge campaigns.
Their candidates won in the Houston area counties of Harris and Fort Bend, and in the San Antonio areas of Bexar and Hays County, while losing the post in Nueces County in a highly contentious race in the Corpus Christi area.
Here is a recap of these high-profile races:
Harris County
Progressive Democrat Lina Hidalgo, who led Harris county through the Covid pandemic, survived an unexpected challenge from first-time Republican candidate Alexandra del Moral Mealer this November.
Hidalgo, the incumbent, wrote in a statement on Twitter that, "Yesterday, the people of Harris County chose optimism over fear & people over politics. I want to thank each & every voter who showed up to make their voice heard this election. I also want to thank Ms. Mealer for a hard-fought campaign & her military service. Onward!"
Hidalgo won by a narrow margin – of over one million votes cast – with just under 51 to roughly 49 percent.
Defiant in triumph, she held a news conference to praise and thank colleagues and supporters, but she also took time to call out some Democrats for not backing her.
"There were some elected officials that weren't there because they didn't think it was convenient, those in my party that wouldn't do an ad for me, that wouldn't have a fundraiser, that wouldn't help when it got tough," Hidalgo said. "And oh, I remember who they are."
Mealer, who had the backing of Houston furniture mogul "Mattress Mack," aka Jim McIngvale, campaigned on crime-related issues, blaming Hidalgo for recent violent crime cases although crime rates have fallen this year.
"While we did not accomplish our goal of changing leadership in Harris County, we were successful in elevating the profile of critical issues like the need to appropriately resource our law enforcement and criminal justice system as well as the desire to eliminate corruption and increase transparency in local government," Mealer said in a statement on Twitter.
In a news release earlier this month, Hidalgo's campaign said she had raised $911,000 from 2,410 individual donors compared to Mealer's $3.7 million, which they claim came from "Texas' most extreme, far-right stakeholders."
Toni Harrison, the spokesperson for Hidalgo's campaign, said in a statement "It's hard to imagine that wealthy donors who want Harris County to return to good ol' boy politics for their corporate interests can relate to Harris County residents who want to keep moving forward."
Fort Bend County
Incumbent KP George was officially declared the winner in the Fort Bend County Judge race, earning a second term. He earned roughly 52 percent of the vote, narrowly defeating Republican challenger Trever Nehls – by a margin of nearly 8,000 votes – in the contest in the suburban Houston area.
George was first elected to the position in 2018, becoming the first person of color ever to hold the position of Fort Bend County judge. He has said that he has faced numerous racist and xenophobic attacks during his campaign.
Before becoming county judge, George was a financial planner and Fort Bend ISD school board member.
George released a statement that read in part "I am honored to have been re-elected as the Fort Bend County Judge to keep moving #FortBendForward."
Nehls conceded the race in a post on Facebook on Wednesday, saying "We are clearly a very divided county and country and I pray we find a way to heal that division and become united once again."
Nehls is a former constable for Fort Bend County Precinct 4 and is currently the president of a Fort Bend-based biotechnology company.
Bexar County
Former Judge Peter Sakai defeated Republican Trish DeBerry in the race to replace retiring Bexar County Judge Nelson Wolff in Tuesday's election in the San Antonio area.
Sakai finished with approximately 57 percent of the vote, and DeBerry, a former county commissioner, conceded at her election party at Aligned Mortgage on Summit Parkway, garnering only roughly 39 percent.
"We fought the good fight," DeBerry told supporters in her concession speech, adding that "clearly it was a very good day for Democrats across the board."
Sakai spent 26 years working on cases related to child abuse and neglect and is a former associate judge before being elected judge in Bexar County's 225th civil court.
Sakai addressed supporters at an area restaurant Tuesday night, saying in part that, "as the Bible dictates, we must take care of the least of us. Let us care and give compassion to others," Sakai said. "We must make our community a better place for our children and grandchildren. That will be my legacy."
DeBerry, a longtime communication professional, and business owner, previously represented Precinct 3 on the Commissioners Court for 11 months before making a last-minute decision to run for county judge.
In September, the race took an unexpected negative turn when a series of anonymous ads attacked DeBerry, causing her fundraising rate to plummet, which prompted her to accuse her professional and political opponents.
Hays County
Underdog Democratic candidate Ruben Becerra stunned a former 14-year commissioner Tuesday to take the highest elected office in Hays County in 2018.
Becerra, a San Marcos business owner, defeated Will Conley by over 2,600 votes, a three-percent margin with nearly 40,000 votes compared to 37,000 plus in Tuesday's election.
Becerra replaces Bert Cobb, who stepped down from the seat in August after announcing his fight with leukemia.
Becerra previously ran for the San Marcos CISD board of trustees and Mayor of San Marcos but lost both efforts. But in his upset victory Tuesday he became the first Democrat since 2006 to win the seat.
Nueces County
Former state lawmaker, Republican Connie Scott, decisively beat the Democratic incumbent Nueces County Judge Barbara Canales in Tuesday's election.
The Corpus Christi area commissioners' race saw Scott win by a decisive margin of eleven percent, much like other Republicans in statewide races. Scott garnered more than 49,000 votes, while Canales netted just over 39,000.
Scott celebrated with local Republican candidates and their families at Brewster Street Ice House in Corpus Christi.