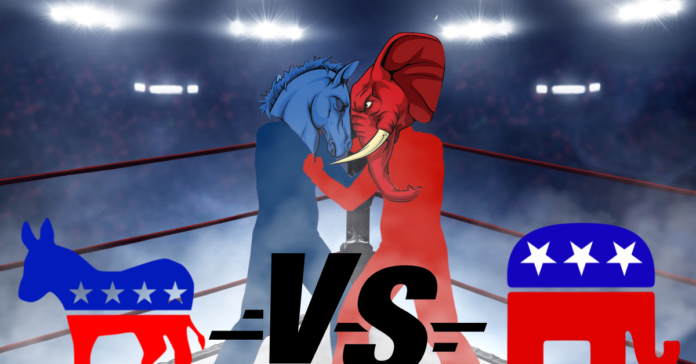 Despite sweeping victories across the state on Tuesday, the Texas GOP seems to be ramping up violent rhetoric pitting Democrats and Republicans against each other. An email sent out by Matt Rinaldi, Texas GOP chair this week reads:
"Nationally, last night showed what many of us feared; there are now two distinct Americas. One in tune in with reality and the other living in a fantasy."
Unfortunately, this is not the Texas GOP coming to terms with the many falsehoods it spread this year, including that the 2020 Presidential election was stolen and various homophobic and transphobic nonsense that made it into the party platform under Rinaldi's leadership. Instead, it continues deep into conspiracy territory.
"One cares about your struggles with inflation, the economy, your job, and your shrinking paycheck while the other gleefully tortures you in pursuit of a radical woke agenda."
Claims that the Texas GOP cares about inflation are hard to justify. Governor Greg Abbott's immigration policies have been a contributing factor to inflation in the state, and all Texas Republicans in both the House and the Senate voted against The Inflation Reduction Act. As for jobs, President Joe Biden has seen the lowest unemployment rate in half a century.
The email continues.
"One believes in parents and their God-given rights over their children, and the other believes in indoctrination, government supremacy, and mutilating healthy bodies."
Though not explicit, Rinaldi's speech is clearly trying to push the lie that children are undergoing gender reassignment surgeries. While some older teens might possibly receive cosmetic surgery after years of consultations with a doctor and parental permission, these are extremely rare. Nearly all gender transition for minors involves simply changing hair, dress, names, and pronouns. Continuing…
"One believes in the greatness of America and all that she was and can be, while the other views America as systematically bad and seeks to destroy it. These 2 Americas are at war, and there is no longer any middle ground. Any appeal to common sense, rational thinking, or compromising is over. Moving forward, we need to be crystal clear about who we are. what we believe, and why it is best."
It is interesting that Republicans, who are usually against pronoun discussions or changes, refer to America as both "she" and "it" in literally the same sentence.
Beyond that, it appears Rinaldi is falling in line with Republicans like would-be Speaker of the Texas House Tony Tinderholt, who has vowed to strip Texas Democrats of chairs on various committees despite long standing tradition. The easy wins that Republicans experienced statewide during the midterm elections do not seem to have put them in the mood to make any compromises with liberals, though they continue their compromises with the truth based on this email.
Regardless, Rinaldi is all but calling for Civil War in the state rather than a functioning democracy. With the legislative session looming early next year and a track record of passing radical restrictions on personal freedoms, Republicans have drawn their line in the sand.