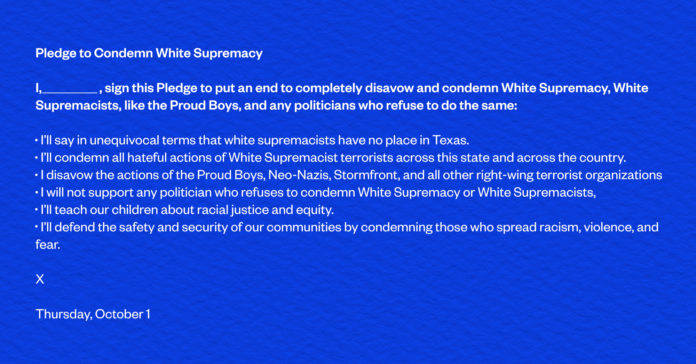 In a veiled stab at Democrats, Gov. Greg Abbott recently challenged all candidates for public office to join his back the blue pledge. It was Austin's decision to cut its police budget that prompted the pledge, and in a series of news conferences, Abbott surrounded himself with law enforcement officers and threatened to take action against cities that defund police operations. The political optics of it all appeared to be designed to further President Donald Trump's desire to make public safety the prevailing issue in the presidential campaign.
In refusing to condemn white supremacists during Tuesday's presidential debate, Trump handed Democrats the opportunity to take back the narrative. The Texas Democratic Party has since issued a new challenge to Abbott and all other Republicans to stand up and disavow "in no uncertain terms white supremacy and white supremacist behavior."
"Texas has seen tragedy after tragedy with the rise of white nationalist terrorists," read a media release from the state party. "From the El Paso shooting to the rise of hate crimes, we must fight the scourge of white supremacy in our state and in our country.
The Democrats' pledge to condemn white supremacy is in addition to their previously released Texas First Pledge, which calls for an end to the state's fight to kill the Affordable Care Act, adherence to science in making COVID-19 decisions, expanded unemployment assistance, quality education, support for the armed services and condemnation of racism.
In Tuesday's debate, when asked to denounce white supremacists, Trump said, "Almost everything I see is from the left wing, not from the right wing." In follow up, he added "Proud Boys, stand back and stand by! But I'll tell you what, somebody's got to do something about antifa and the left."
By Wednesday, the president, facing extreme criticism from both Democrats and Republicans, attempted to distance himself from the extremist group, saying he doesn't know who the Proud Boys are.Even on Thursday, White House Press Secretary Kayleigh McEnany refused to say the president denounces white supremacy, claiming Trump has already done that.