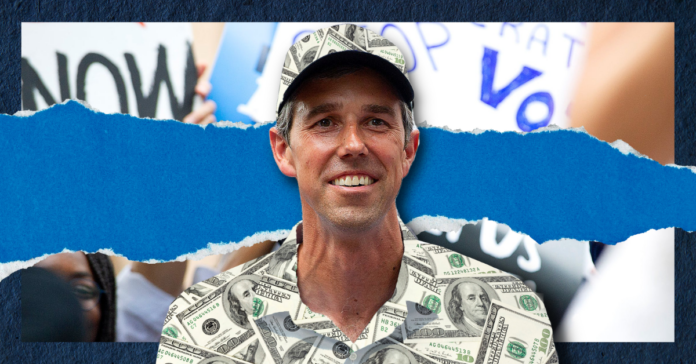 The 2022 Texas gubernatorial election was the most expensive in state history. Greg Abbott and Beto O'Rourke raised a combined $178 million during the 2021-22 campaign, more than double the $88 million in combined contributions in the 2014 gubernatorial race between Gov. Abbott and former Sen. Wendy Davis, and eclipsing the $113 million in contributions for the 2018 Senate race between O'Rourke and Ted Cruz.
For 2022, O'Rourke out-raised Abbott, $67.6M to $63.9M. For the two-year election cycle, Abbott out-raised O'Rourke $101.5 million to $76.6 million.
But how did O'Rourke spend his money? Did he get the most of his war chest? According to the Texas Tribune, he spent most of it on ads – not surprisingly – reserving $10 million in ad buys for the fall alone.
O'Rourke often hit Gov. Abbott on the state's restrictive abortion ban. In one ad, multiple women tell viewers, "Women all across Texas are no longer free to make decisions about our own body, no longer free to choose if a pregnancy is right for us or our families, not even in cases of rape or incest."
Another ad also hits Abbott on abortion, with a Republican and Democrat conversing about the law: "I mean, this is a free country, we need a governor who gets that. That's Beto," the Republican says."
O'Rourke also attacked Abbott on guns, with an ad featuring relatives of Uvalde school shooting victims, who ask Texans to vote for O'Rourke because of his support for gun control measures.
"On May 24, our children's voices were silenced," one parent says in the ad.
"We never wanted to be on camera. … We're not political people. … But we have to fight for change, because no child is safe in their school while Greg Abbott is governor," the parents say.
The families of the Uvalde massacre have vocally pushed for legislation to raise the minimum age to buy semi-automatic rifles from 18 to 21, enact red flag laws and implement universal background checks for gun purchases.
An RA News analysis of Texas Election Commission records details a more thorough breakdown of his advertising, consulting and printing expenditures since the primary:
Digital Advertising: $28,372,085.54
Field Consulting: $6,331,500.73
Political Strategy Consulting: $4,073,401.87
Printing: $3,302,533.59
Texting Services: $2,403,422.66
GOTV Canvassing: $666,285.71
Direct Mail: $555,677.08
Polling: $440,319.89
Radio Advertisement: $316,250.00
Direct Mail Fundraising: $309,628.27
Digital Consulting: $275,000.00
Fundraising Consulting: $274,271.56
Research Consulting: $268,225.00
Political Consulting: $240,180.61
Media Production: $168,143.09
Software Subscription: $161,435.98
Media: $150,000.00
General Campaign Consulting: $140,000.00
Fundraising Mailer: $129,581.70
Data and Organizing Consulting Services: $105,000.00
Print Media Ads:$98,500.00
Organizing Consulting: $50,000.00
Polling and Research: $47,178.00
GOTV Consulting: $25,000.00
Political Print Advertising: $20,497.98
Direct Mail Services: $14,516.59
Yard Sign Program: $11,500.00
Print Advertising: $2,413.00
Online Political Advertising: $2,103.37
Could O'Rourke have spent his campaign funds better? Given the deeply ingrained Republican culture in many parts of Texas – Republicans have swept statewide races for 28 straight years – it might not have mattered. Democrats have hoped that the changing demographics of the state would have already led to some victories, but 2022 marks yet another year of disappointment for the Texas Democratic party.
As for O'Rourke, after losing three straight races – for senator, president and governor – some observers wonder if he has a political future in Texas. But in his El Paso concession speech, O'Rourke told his supporters, 'I'm in this fight for life.'