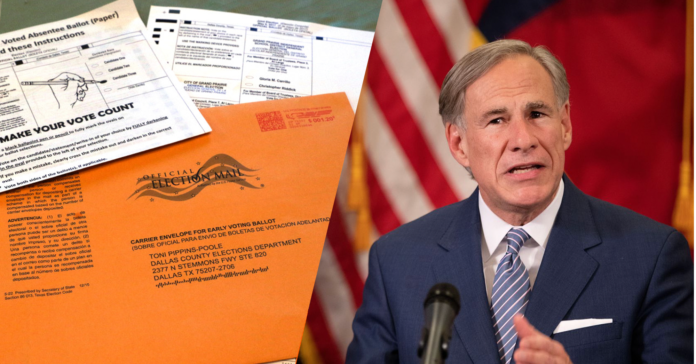 The big political story across the nation at the moment is the move by Republican-led state legislatures to enact massive voting rights restrictions before the next set of midterm elections. Texas' attempt, Senate Bill 7, starts hearings this week.
Under the guise of emergency measures needed to protect voter integrity, Governor Greg Abbot threw his weight behind the push in a Houston press conference last week. He was flanked by State Rep. Briscoe Cain (R-Deer Park), who famously flew to Pennsylvania to aid former President Donald Trump's efforts to thwart that state's vote count in the courts. It failed.
"There is an obligation … that we remove that distrust by ensuring that we do all we can to ensure that every eligible voter will be able to cast a vote but no one will be able to cast an illegal vote," said Abbot in the press conference. There is no evidence that voter fraud of any significance has taken place in Texas.
However, the illusion that such illegal voting is rampant is a convenient scapegoat for the governor, who faces stiff opposition in 2022 thanks to his poor record on handling the coronavirus outbreak. Other major Republican officials such as Lt. Governor Dan Patrick and Attorney General Ken Paxton are also up for re-election, the latter in the midst of a criminal investigation by the FBI and under the shadow of indictment for fraud. It would obviously be very convenient for fewer Democrats to vote next November, which is likely to be the result of SB 7.
The bill, authored by State Sen. Bryan Hughes (R-Mineola), has some truly disturbing provisions. The one that stands out the most involves disabled Texans and mail-in voting.
Under current Texas statute, disabled Texans are one of the few groups eligible for mail-in voting. Unfortunately, the state has long dodged what exactly "disabled" means. Under SB 7, applicants for mail-in voting must provide a doctor's note signifying that they have a condition that prevents them from voting in person. During the pandemic, the state Supreme Court determined that fear of infection, even for people who are immune compromised, did not apply.
This leaves the question of who in the disabled community qualifies for mail-in voting and what will happen to them if the mercurial lawmakers decide they have committed voter fraud. Last year, president of the Texas Democrats with Disabilities Caucus, Joey Gidseg told us that many disabled people fear to apply for mail-in voting specifically because the state's draconian crackdowns might put them in jail.
Making mail-in voting have as little participation as possible seems to be the main goal of SB 7, which is not surprising as President Joe Biden won the mail-in vote by three-to-one in some states. In addition to putting up additional barriers for voters with disabilities while still not clarifying what counts, the bill puts onerous restrictions on sending out applications to Texans. The bill bans county officials from sending out applications unless they are specifically requested and makes it a felony for third parties to do it. More unsettling, it gives a vague authority boost to the Attorney General to investigate and prosecute Get Out the Vote organizations who may be trying to help people apply to vote by mail. This will almost certainly decrease the activities of such groups out of fear, particularly when Paxton is chomping at the bit to prove the Democrats only win elections through nefarious means.
That's not to say that SB 7 won't address in-person voting in a weirdly discriminatory way as well. The bill would mandate that all voting locations have the same number of voting machines regardless of population density. That means that Houston could have no more machines at a location than a tiny town like Edna, Texas. Cities are likely to see longer lines on Election Day because of this arbitrary nonsense, which will drive down participation. The fact that the steady growth of the Democrat vote in Texas is taking place in large cities like Houston, Dallas, and San Antonio makes it obvious why Hughes' bill is targeting those locations with the ardent support of Abbott et al.
Groups like MOVE Texas are planning six-figure ad buys in order to combat the bills, but opposition to these voting rights restrictions will likely lie in the courts. The Texas Supreme Court, all Republicans, has had a mixed bag when it comes to voting restrictions. They declined many of the attempts launched by Republicans like GOP Chair Allen West in 2020, but largely under the guise that the election has already started, and such moves were too disruptive. More than a year until the midterm, that logic is not likely to be present.