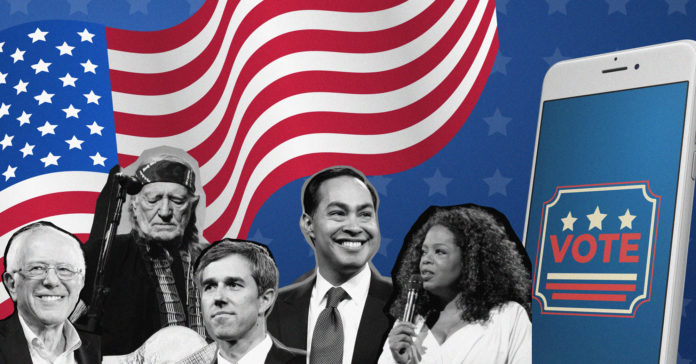 You get to vote! You get to vote! You get to vote! She's not calling to give you a brand new car, refrigerator or expensive hand cream, but she does have an important message for Texans — go vote!
Oprah Winfrey and Willie Nelson are part of a massive get-out-the-vote phone banking effort happening in Texas today in advance of tomorrow's start of early voting.
The effort, which is being organized by former U.S. Rep. Beto O'Rourke of El Paso, includes former Democratic presidential candidates U.S. Sen. Bernie Sanders (D-Vermont), former San Antonio Mayor Julián Castro and businessman Andrew Yang, former Georgia House Minority Leader Stacey Abrams as well as more than 18,000 volunteers.
To help secure more volunteers, television host Jimmy Kimmel tweeted the following: "One lucky volunteer will receive a box of random crap from my house. SIGN UP NOW! I have a lot of weird stuff."
The phone banking event is sponsored by Powered by People, O'Rourke's political action committee. The group has registered over 100,000 voters in Texas over the past seven months, according to O'Rourke, who estimates that he and the volunteers will call over 1 million Texas voters today.
He called it the "largest single-day voter contact effort in Texas history."