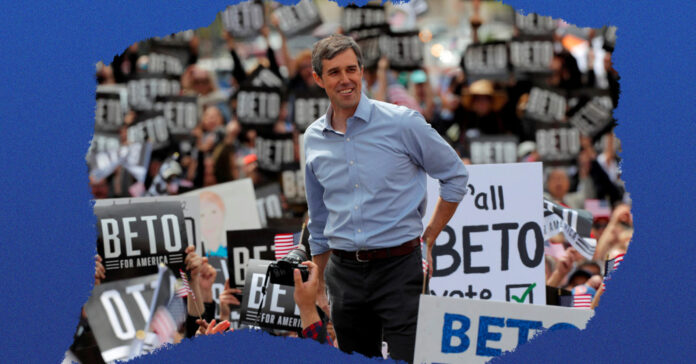 Former Congressman Beto O'Rourke's bid for Texas governor remains a long shot, but there are some key indicators that he might be making in-roads in ruby red rural Texas.
Both the New York Times and the Washington Post recently did pieces following O'Rourke on his marathon around the state. The candidate is venturing far out of the urban centers that serve as the Democratic strongholds in the state and the suburbs where President Joe Biden made huge gains in 2020. Instead, he is hitting small towns in the country where former President Donald Trump carried the vote by 70 percent or higher.
The crux of O'Rourke's argument is that Governor Greg Abbott has pushed the state so far to the right that many Republicans are now looking for a more moderate position. There is some proof that this theory has legs. The generic congressional ballot for both the United States House of Representatives and Senate has been trending bluer, a rarity in a midterm with a Democratic President. Even Biden, who spent most of the summer in a dismal slump with approval ratings, has rallied back into a tie with former President Ronald Reagan at this point in his first term.
That's not to say O'Rourke has been welcomed with open arms. It's common for Abbott supporters to descend on his events, some of the openly armed, and scream things like "baby killer" and "groomer" at him. The culture war is alive and well wherever O'Rourke stops to talk with people.
Yet, it may be that these antagonistic tactics are actually bolstering O'Rourke. One stop where a man laughed when O'Rourke brought up the massacre at Robb Elementary School pushed the candidate into expletives and castigation. The resulting video of the incident went viral, being viewed over 5 million times.
Further incidences where people with guns tell O'Rourke that he is unwelcome in these parts of the state usually just make him look more impressive and his detractors angry and small. The problem has gotten bad enough that Abbott has encouraged supporters not to engage with O'Rourke in this manner, presumably because it has only backfired rather than hampered his opponent.
None of this has translated to an advantage for O'Rourke in the polls or fundraising so far. O'Rourke still lags between 5 and 7 points behind in most recent polls, and Abbott is sitting on a huge war chest even as O'Rourke begins to accept large donations from people like George Soros, which he promised he wouldn't do when he ran against Sen. Ted Cruz in 2018.
That said, his toil is engaging people often overlooked by the Democratic party in Texas. In Quanah (pop. 2,272), O'Rourke drew 64 people to an event. In Bowie, with a population roughly twice as much, O'Rourke pulled a solid thousand. He's visited places like this as many as seven times, increasing the number of people who hearken to his message with each appearance even as protesters remain a constant presence. While some remain stalwart adversaries, if he can shift the votes of just a few people, he might pull this off.