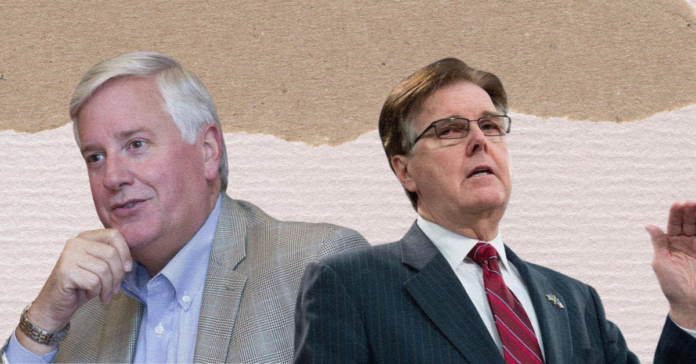 This week three more Texas Republicans came out in support of Mike Collier, the Democrat running to unseat Republican Lt. Gov. Dan Patrick. They are former U.S. Rep. Steve Bartlett and state Reps. Byron Cook and Bennett Ratliff. They signed an open letter urging Texas voters to elect the Democrat next month.
"To earn our support, a candidate must respect our democracy, our Constitution, and our cherished Texas values of integrity and decency," the three wrote. "A state as great as Texas deserves a Lt. Governor who will listen, build consensus and focus the Legislature on the real challenges facing this state. That's why we support Mike Collier for the role of Lt. Governor."
The trio joined Texas Senator Kel Seliger of Amarillo and Republican Tarrant County Judge Glen Whitley, who both support Collier, a former Republican turned Democrat. Both have been critical of Patrick for some time. Neither Whitley nor Seliger are running for reelection and therefore felt free to endorse the Democrat.
Collier is a Houston area accountant running for statewide office as a Democrat for the third time. A victory in November would make Collier the first Democrat to hold statewide office in nearly 30 years. Given that funding is lopsided in favor of Patrick, the endorsements he's received are critical.
Patrick announced that he raised nearly $2.3 million in the recent campaign finance reporting period ending in September. He spent $12.4 million in the same timeframe, leaving him with $16.8 million cash on hand. By contrast, Collier was only able to raise $1.4 million in the same three-month period and spent $1 million. He has roughly $900,000 remaining.
Patrick still has a sizable lead on Collier, but the margin is narrowing. However, In 2018, the polls showed Patrick with a 12-point lead in October. The final results showed only a 4.8-point gap.
Whitley cites Patrick's efforts to limit property taxes, which is a critical revenue stream for local governments. Whitley claims that because some local governments are restricted in this way, it makes it difficult for them to operate and provide critical services.
He blames Patrick who led the charge to pass Senate Bill 2, which requires cities and counties to hold an election before raising property taxes by more than 3.5% from the previous year.
The endorsements Collier has garnered are based on his experience with accounting practices, which Whitley said the state needs.
Seliger, former mayor of Amarillo has been called the "most liberal Republican in the state" by Patrick, who said the state's GOP has become far too rigid and far too right-wing. Seliger's district was redrawn last year in an attempt to oust him after his political battles with Patrick.
He told The Texas Tribune that Collier "has always been conservative…He used to be a Republican. And I think he will be conservative, but I think he's going to … represent everybody in the state of Texas."
In the late 2000s, Collier says he began to question his conservative roots and previous voting habits due to the underfunding of public schools by then-Gov. Rick Perry. In 2010, Collier voted for Democrat Bill White for governor and felt comfortable doing so because he was a businessman, political centrist, and former mayor of Houston.
The same year, he began attending meetings of the Kingwood Democrats, a minority in that deep red suburb. But when compared to the reactionary tea party gatherings he had previously attended, the Democrats seemed friendly and focused on the issues, rather than name-calling.
The race is Collier's third, having lost to Patrick in 2018. He came within 5 percentage points of unseating the arch-conservative Patrick, the second-most vulnerable statewide official on the ticket that year, despite having little backing or name recognition. And he had suffered a 20-point blowout loss in his bid for state Comptroller in 2014.
But this year Collier is running a much more robust campaign, having raised more money and adding a more seasoned team, which helped him retool his messaging. In a recent campaign ad of his own, Collier identified himself as a "former Republican" and said, "I know plenty of good Texas Republicans, and Dan Patrick ain't one of them."
Their efforts have forced Patrick to become more aggressive and spend more money on ads than he did four years ago. He's been barnstorming the state in a double-decker bus decorated with campaign ads showing his face, and touting "principled conservative leadership."
The spot targeted GOP-dominated West Texas, and the campaign also bought ads on broadcasts of "The Joe Rogan Experience" and the "Howard Stern Show," atypical places for a Democratic candidate to appear, but it reflects an effort to reach Latino and white men who are considered to be independent voters.
He recently tweeted out his new catchphrase — "Fix the damn grid" — which reaches all Texans, as fears still linger about the possible repeat of last year's deadly grid failures during Winter Storm Uri. The slogan is featured on glow-in-the-dark merchandise for the run.
Collier said he is relying on his experience as an oil and energy expert and his career as an accountant, to serve all of the people of Texas. He believes in "lowering property taxes, improving public education, fixing the electric grid, preserving abortion access, protecting marriage equality, and defending transgender children."
Collier also supports enhanced water management, a huge selling point for his campaign in the western part of the state. Almost all of these positions make him the diametrical opposite of Patrick, who much like fellow Republican Sen. Ted Cruz, is not as popular as he once was.
Thus, Collier feels that if the public gets to know him, and independents and disaffected conservatives vote for him along with democrats, he can win.