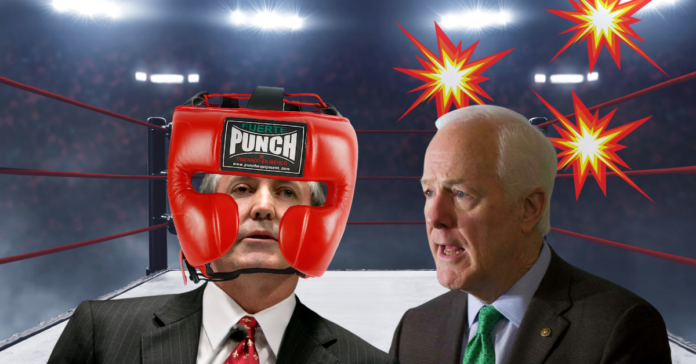 One of the most prominent Texas Republicans, Sen. John Cornyn publicly stated that Attorney General Ken Paxton was an embarrassment for Texas politics. Making reference to the lingering scandals that have been trailing Paxton for more than seven years.

In the upcoming runoff primary elections, Paxton is seeking a third term as the state's top lawyer and is facing Land Commissioner George P. Bush.

But Paxton has faced several controversies and run-ins with the law in the past few years, including a seven-year-old indictment for securities fraud, supposedly cheating on his wife, a lawsuit by the state due to his controversial ethics practicing as an attorney, and even an FBI investigation against him.
Cornyn, who has said tries "very hard" not to get involved in primary politics, and has not endorsed anyone, could not keep quiet on his deep-seated thoughts about Paxton.
"I will tell you that I remain very disturbed by the fact that the incumbent has had an indictment hanging over his head, for now, I don't know, what has it been, six years? This is the chief law enforcement officer of the state of Texas. And it's a source of embarrassment to me that that has been unresolved," Cornyn said on a Thursday call with reporters, as reported by The Texas Tribune.

Paxton on the other hand denies any wrongdoing and retailed towards Cornyn's comments via social media.
"I'm focused on stopping Biden's disastrous agenda & defending Texans' conservative values," he tweeted Thursday afternoon. "He represents the Bush wing of the GOP. I'll never relate to Senator Cornyn's ability to compromise with radical Senate Democrats in DC."

Since the primary often tests which candidates can appeal to the party's most ardent followers, Paxton has been able to maintain his lead heading into the runoffs. In the eyes of GOP voters, he is the obvious vote due to the support Trump has given him, and his lack of restraints when talking about immigrants, abortion, and rights for minority groups.

"I can't predict what the outcome will be, but I do, as a former attorney general myself, I'm embarrassed by what we're having to deal with," Cornyn said.