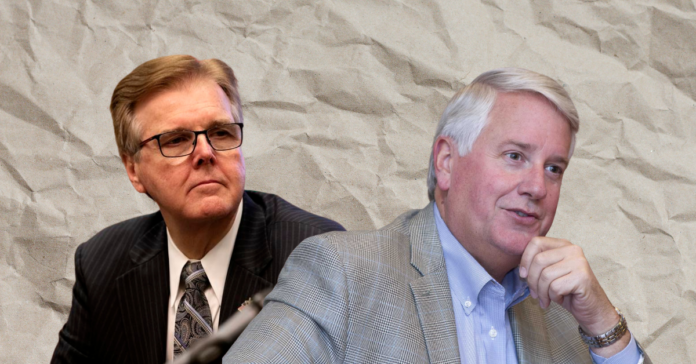 As the November 8 election date grows closer, candidates are ramping up their activity and their rhetoric in the Texas Lt. Governor's race. With the Texas Lt. Gov. wielding tremendous power over the Texas Senate and politics at-large in the state, the race is easily one of the most important in the state. This year, certified public accountant and financial advisor Mike Collier challenges incumbent Dan Patrick for the position.
Legislative priorities posted on Collier's website include funding for public schools, fixing the Texas power grid, closing property tax loopholes for out-of-state corporations, and economic development. Campaigning against the privatization of public schools through vouchers, Collier recently visited rural West Texas on a tour to visit with folks that he hopes to persuade to vote for him.
In a recent visit to Amarillo, Collier adamantly opposed vouchers while voicing strong support for public school safety and full-funding. On the same day Collier appeared in Amarillo, Patrick launched a statewide bus tour with 131 stops scheduled, leading some political pundits to conjecture that Patrick is feeling the heat of a close race.
Earlier this week, rumors buzzed in Austin that Patrick told a group of Senators to be prepared to reorganize the Texas Senate if he loses, as he believes his race is a "tossup". Patrick's campaign consultant, Allen Blakemore, quickly responded by saying, "Our polling still shows what it always has – our lead is secure and there has not been any slippage at all." Politicos quickly noted that Blakemore didn't provide any of this data for backup.
This was followed by a rumor that Patrick allegedly told Senators to tamp down talk of private school vouchers on the campaign trail, as it doesn't poll well in some rural parts of the state. Referring to a YouTube video of an interview with a reporter, Quorum Report's Scott Braddock tweeted on Thursday, "One day after I reported that @DanPatrick has been privately telling GOP senators to tamp down talk of pushing school vouchers in Texas, here's Patrick tamping down talk of school vouchers in an interview with @RyanChandler98 in Lubbock."
All of this followed Republican endorsements for Collier last week from Tarrant County Judge Glen Whitley and Texas Senator Kel Seliger. Whitley indicated that he prefers Collier due to his expertise at budget management and the fact that he is a "numbers guy." Seliger has long clashed with Patrick and describes him as an extremist and a dictator.
Few Austin insiders would argue with Seliger regarding Patrick's iron-like grip on the Senate, rewarding senators when they do his bidding and routinely punishing them when they do not. For the most part, Seliger's clashes with Patrick and the Lt. Governor's punitive measures have been public and out in the open. Several other Senators have been punished for not "towing the line" within the halls of the legislature, sometimes receiving a diminished committee assignment or even an alleged verbal "dressing down" by Patrick in closed chambers.
Because Patrick has such control over the Senate, many Capitol insiders call the chamber a Senate of one vote. "If Collier were to win this race," said one Austin lobbyist, "it might be the most transformative thing that could happen to the state in the last twenty-years. Patrick would be gone and the Senate would go from non-functioning to merely dysfunctional."