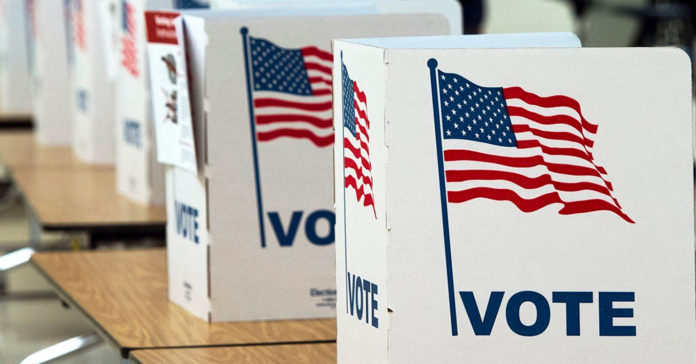 An exhausting campaign season, punctuated by tumultuous court battles over expanding mail-in voting and prolonged partisan brawls, moves to the final stretch as early voting begins on Tuesday.
But disruptions across the country, including clamorous rallies of Trump supporters outside early voting places in Virginia and reports from the FBI field office in Dallas that far-right extremist groups could threaten violence during the election and its aftermath, may have Texas voters worried about what could happen at the polls here.
Voting rights advocates say voters should not be deterred.
"In most cases, when voters go to the polls, it will be the same as it has been in other presidential elections," said Grace Chimene, president of the League of Women Voters of Texas, which provides helpful useful voting information on its website.
"We have confidence that the election officials of all our 254 counties will do a good job. Most voters won't experience any type of chaos or problems at the polls," she said.
Nevertheless, voters likely will encounter longer lines and wait times than usual due to an anticipated record turnout. As of September, Texas had 16.6 million registered voters. That number could rise as registrations through the Oct. 5 deadline are added to the tally.
Texas Election Protection, a coalition of organizations and volunteers who protect voters as they exercise their right to cast ballots, estimates that more than 11 million voters will turnout in this election, up at least 2 million from the 8.9 million who voted in the 2016 presidential election.
A report prepared by the Texas Civil Rights Project incorporating data collected by Texas Election Protection documents a variety of problems that occurred in the March 3 primaries and the July 14 primary runoff election and anticipates possible operational troubles in the upcoming election.
Problems that plagued the earlier elections this year include polling sites that opened late or not at all, voting equipment malfunctions, inadequately trained poll workers, voters omitted from registration rolls, long lines, voters unable to cast regular ballots and inadequate information for voters about the voting process.
"Since March, the threat to Texas elections has become acute," the report states. "The COVID-19 pandemic has imposed a set of unique challenges to election administration not seen in generations.
"Further, wild charges of 'voter fraud' and 'rigged' elections by national leadership have undermined public confidence in the electoral system," the report states.
Political observers say these challenges could impact operations despite efforts and suggestions by voting rights groups to correct the problems of the earlier elections this year.
"This election will be the perfect storm of high emotions about candidates, massive voter turnout and big changes to ballots and how we vote," said Brandon J. Rottinghaus, professor and Pauline Yelderman Endowed Chair of political science at the University of Houston. "Voters should be prepared to be patient with the process."
Although Democrats and voting rights groups lost court battles to expand mail-in voting and reverse a state law that eliminates straight-ticket voting for the first time in this election, they prevailed against top Republicans to keep expanded early voting this year.
Gov. Greg Abbott issued an executive order in July to allow an extra week of early voting in the general election due to the pandemic. A group of leading Republicans, including conservative Houston activist Steve Hotze and state lawmakers, sued to block Abbott's extension of early voting, but the Texas Supreme Court ruled this week that Abbott had not overstepped his authority and it was too late to make changes.
The extra week of early voting should make it easier for voters to avoid long lines and wait times, Chimene said. A shift in most counties, especially the state's large urban counties, to vote centers allows more flexibility for voters and should reduce congestion even on election day, she said.
The advantage of the vote center system allows voters to vote at any center within their home county. So voters who work 45 minutes away from their homes can vote at a vote center close to their workplace rather than their homes. The vote center arrangement has been in place for early voting in some counties for several years but was rolled out for Election Day voting as well this year, Chimene said.
Some counties, including Harris and Travis, have gone even further to make it easier on voters by installing a digital tool on their websites that allow users to check the wait times at vote centers, she said.
State laws protect voters against harassment and intimidation with rules about where demonstrators can stand at vote centers. Laws also prohibit poll watchers from contact with voters, Chimene said.
"If anyone sees something, experiences anything or feels unsafe, we encourage them to contact Texas Election Protection immediately," she said.
Minority voters, who most frequently are the targets of intimidation and harassment tactics, are expected to vote early in large numbers.
"Black voters prefer to vote early and won't be scared off by attempts at harassment at the polls," said Michael O. Adams, professor and interim chair of political science in the Barbara Jordan-Mickey Leland School of Public Affairs at Texas Southern University.
"If they have any safety concerns, it's about the pandemic," he said. "People want to vote, and they intend to vote like their lives depend on it."
As for health safety precautions, polling sites will enforce social distancing, have hand sanitizer available and will encourage — but not require — voters to wear masks, Chimene said.