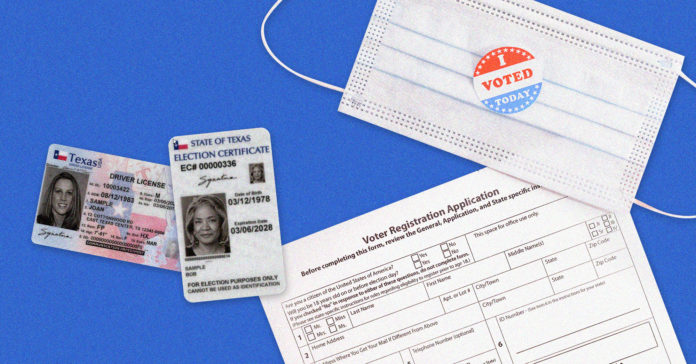 As Texans show up in record numbers to cast their votes, a new study finds that exercising your Constitutional right is anything but easy in the Lone Star State. In fact, Texas has the most restrictive voting processes in the nation, according to research done by Northern Illinois University, Jacksonville University and Wuhan University in China.
The study looked at dozens of current election laws and then ranked each state according to the time and effort it takes to vote in U.S. presidential elections.
Texas' state policies land in last place in the ranking.
Texas maintains an in-person voter registration deadline 30 days prior to Election Day, has reduced the number of polling stations in some parts of the state by more than 50 percent and has the most restrictive pre-registration law in the country, the researchers noted.
"State policies that impact the cost of voting are not the only factors that influence turnout, but they are arguably the most efficient way to alter the overall difficulty of voting for citizens, which is a major reason why we see variations in turnout from state to state," said Michael Pomante, who specializes in voter behavior.
With the pandemic in mind, local election officials, mainly Democrats, have been trying to make it easier for voters to cast their ballots this year. They've been blocked at every turn by a never- ending series of legal challenges from Republican-led groups and orders issued by Gov. Greg Abbott.
The current challenge seeks to prevent Harris County from offering drive-thru voting. That case is now pending before the Texas Supreme Court.
"Voters will not be deterred, the GOP's sloppy petition was not meant to be a serious legal argument. It was aimed at manufacturing chaos to chill drive-thru and curbside voting to cast a cloud of confusion at the polling site," said Ginny Goldman, progressive political strategist, in a statement issued by the Texas Right to Vote organization. "Texas voters can see through the smoke and mirrors. Our homegrown voter power broke records on the first day and we can expect the momentum to keep going through election day."
The Cost of Voting Index disputes the GOP claims that easing restrictions would result in widespread voter fraud, concluding there is no systematic evidence from research that suggests ballot-stuffing or voter impersonation are major concerns.
"Because voter registration and balloting administration in a presidential election is so decentralized, it would be very difficult to sway a national election in our country by stuffing ballot boxes or casting fake votes," said political scientist and lead author of the study Scot Schraufnagel. "A bigger issue is laws that disfranchise people, which cause democracy to be compromised. Research shows that politicians pay less attention to those who don't participate in elections."
Texas is joined at the bottom of the rankings by Georgia, Missouri, Mississippi and Tennessee.
Oregon takes top honors for making it easy on voters in 2020. It is followed by Washington, Utah, Illinois and Maryland. Factors that help make voting convenient in those states include online voter registration, early voting, mail-in voting, being able to register as late as Election Day and automatic voter registration of citizens who are eligible to vote.