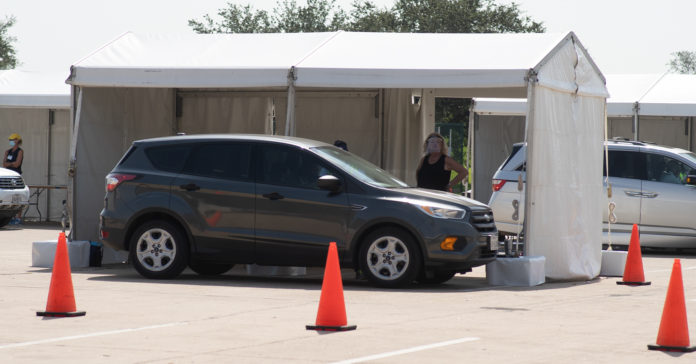 The Texas Supreme Court has denied Republicans' last-ditch challenge to Harris County's drive-thru voting program. A separate but nearly identical federal lawsuit is still pending and will be heard on Monday morning.
The one-page ruling issued Saturday rejected an attempt by Texas Republicans to invalidate the more 127,000 votes already cast in Harris County at drive-thru polling centers.
"We know that the law is on our side," Harris County Clerk Chris Hollins told CNN in an interview moments after the court issued its ruling. "We know that we should be protecting these votes, making sure that all of our residents here can have their voice heard, can have their say in our democracy."
The lawsuit filed by two Republican candidates for Congress and one sitting Republican member of the Texas House asked the all-Republican Texas Supreme Court to order the confiscation of all memory cards that store votes cast on the voting machines at the drive-thru voting centers, thereby preventing those votes from being counted. The petition argued that the drive-thru voting centers, and the ballots cast at them, are "illegal," and "in direct violation of the Texas Election Code."
Harris County's attorneys forcefully responded on Friday, telling the court that the Republicans' challenge lacked any legal merit and that its last-minute nature was bound to cause severe disruption in the election.
"There is nothing about an eligible voter casting an in-person vote from their car that renders their vote illegal, fraudulent, or not countable," Harris County argued in its brief. "A ballot cast in person is not 'illegal' because of the physical layout of the polling location."
The Texas Supreme Court ruling does not bring the matter to an end. The same three Republicans have also filed a nearly identical lawsuit in federal court, and the outcome of that challenge is still pending. U.S. District Judge Andrew S. Hanen, a George W. Bush appointee, will hear arguments in that case on Monday morning.
The lawsuits have even drawn criticism from at least one high-profile Republican.
"The lawsuit attempting to disenfranchise more than 100,000 voters in Harris County is patently wrong," tweeted former Speaker of the Texas House of Representatives Joe Straus, a Republican.
"All of us who believe in the core ideals of this country should want more votes counted and more voices heard. While it may be too late for this election, the Republican Party needs to return to a place where we win with ideas and persuasion rather than trying to intimidate and silence our fellow citizens. I hope all elected statewide leaders in the Texas Republican Party will stand up against these desperate tactics."
National Democratic groups, a coalition of Harris County voters, as well as Texas Democratic U.S. Senate candidate MJ Hegar are seeking to intervene in the suit in support of Harris County.
"We're not going to stand by. We're going to fight to protect every single Texan's vote," said Hegar on Twitter Sunday evening.