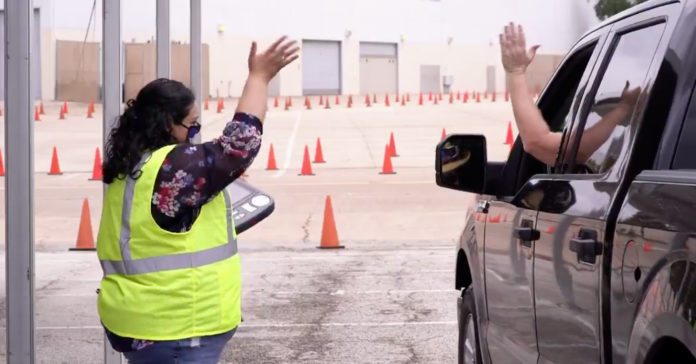 On Friday, Harris County fired back in the Texas Supreme Court at Texas Republicans' challenge to the county's ongoing drive-thru voting initiative — a last-ditch attempt to invalidate more than 127,000 ballots that have already been cast.
Harris County, in stringent terms, asserted that the Republican challenge to drive-thru voting was not based in law and was "woefully" late.
"There is nothing about an eligible voter casting an in-person vote from their car that renders their vote illegal, fraudulent, or not countable," Harris County argued in its brief. "A ballot cast in person is not 'illegal' because of the physical layout of the polling location."
If the state Supreme Court sided with Republicans, argued Harris County, voters would face "severe prejudice" due to the final-hour invalidation of thousands of votes, and significant disruptions to election procedures.
Harris County submitted the brief in response to a new lawsuit filed late Tuesday evening by Republicans, which seeks to invalidate thousands of votes cast at the 10 drive-thru polling stations located around the county.
A similar challenge has been filed in federal court, and a hearing on that case is scheduled for Monday.
Harris County created drive-thru voting locations in an attempt to give Texans a safer, faster way to vote amid the ongoing pandemic.
The new lawsuit against drive-thru voting comes immediately in the wake of the Texas Supreme Court rejecting a separate attempt to halt drive-thru-voting filed last week by, among others, these same three Republicans.
However, while the previous challenge only sought to shutter the drive-thru locations, this new case goes a step further — asking the court to actually void the more than 100,000 ballots cast at drive-thru voting sites.
Texas' laws make it harder to vote here than in almost any other state. An analysis recently conducted by the University of Northern Illinois ranked Texas dead last in terms of access to the ballot box. However, Texas voters are well on pace to set turn-out records this election. As of Saturday, the state has already surpassed 80% of its 2016 turn-out totals.
Recent polling has shown a historically close presidential race in Texas. One poll, conducted in the last two weeks, even showed Biden leading by three points. These numbers have led notable political forecasters to predict Texas is only a slight favorite for Donald Trump, or even an outright toss-up.
Faced by a tight election, and in line with the numerous other efforts to limit the unprecedented surge in Texan turnout, Republicans launched this most recent, last-ditch challenge against drive-thru voting.
Wendell Champion and Sharon Hemphill, two Republican state congressional candidates, along with Steve Toth, a Republican member of the Texas House, filed the new lawsuit late Tuesday evening — drawing immediate criticism from Democrats, and causing concern for thousands of voters, including those who are elderly or disabled.
Abhi Rahman, a spokesperson for the Texas Democratic Party, said in a statement reported by the Austin American-Statesman, that the suit was filed by "cowards."
"They are a disgrace to our state and country. They are afraid of losing this election because Texans are rising up," he added.
In their petition, the GOP candidates ask the all-Republican Texas Supreme Court to order the confiscation of all memory cards which store votes cast on the voting machines at the drive-thru voting centers, thereby preventing those votes from being counted.
The petition argues that the drive-thru voting centers, and the more than 100,000 ballots cast at them, are "illegal," and "in direct violation of the Texas Election Code."
In their legal Response, Harris County told the court that these arguments are based on "false premises" and "thread bare presumptions" unsupported by any evidence. Noting that Harris County had begun discussing plans for drive-thru voting as early as June and had conducted a pilot program of the initiative in July — without a word of disagreement from Republicans — the county further urged the court to dismiss the challenge because it was "woefully untimely."
Harris County noted that it is a well-established legal doctrine that courts do not alter election procedure on the eve of an election because doing so can cause "serious disruption of the legal election process and confusion for voters."
"Here the election is not just imminent — it is happening. More than fifty percent of Harris County has already voted."
In addition to noting the flagrant and disruptive tardiness of the GOP challenge to drive-thru voting, Harris County also called the court's attention to the weak legal basis of Republican's argument. Harris County asserted that the legal citations which Republicans claim support their argument are "misplaced and confused."
"[The Republicans] misreading of the election code is so off base, it seems willful … the election code says nothing about polling locations violations resulting in votes that may not be counted."
In an amicus curiae brief submitted to the court, Harris County resident Janice Jucker, who already voted at a drive-thru polling site, urged the justices not to "steal my vote."
"Voting should be easy, and voting should be safe," writes Jucker.
Harris County Clerk Chris Hollins also tweeted in response to the new lawsuit that drive-thru voting is both safe and legal.
"We'll keep saying it: Drive-thru voting is safe, completely legal, and the plan was approved by the secretary of state. Every vote cast by registered voters will be counted."
In a statement attached to the tweet, Hollins said "Drive-thru voting is a safe and convenient way to vote that is completely legal. Texas Election Code allows it, and the secretary of state approved it. The Harris County Clerk's Office is committed to counting every vote cast by registered votes in this election."
At the time of writing, Harris County voters can still cast their ballots at any of the 10 drive-thru voting centers around the county on Election Day, this coming Tuesday.