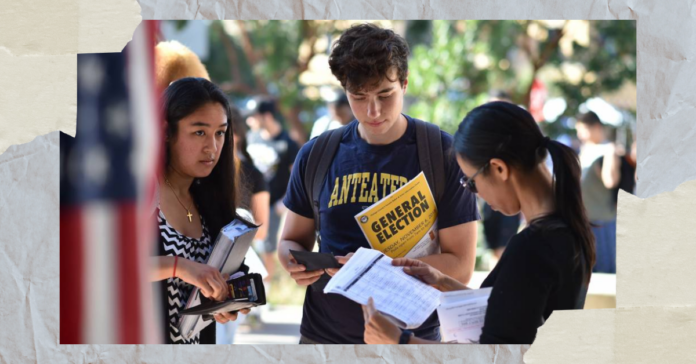 Only 25 percent of young registered voters cast their ballots in Texas this year, a precipitous drop from the 50 percent that voted in the 2020 presidential election. But almost 35 percent of the same group voted four years ago in the 2018 midterm election, according to a post-election report by Derek Ryan, an Austin-based GOP strategist, and data analyst.
"75 percent of 18- to 29-year-olds stayed home this year," Ryan told the Houston Chronicle. "Meanwhile, nearly five times as many voters aged 50 and up…voted…The election was won by older voters."
Just four years ago, young voters under 30 showed up in record numbers, which helped Democrats pick up 12 seats in the state House of Representatives, and carried Beto O'Rourke to within 3 percentage points of defeating U.S. Sen. Ted Cruz.
The youth vote accounted for 11 percent of the roughly 8.1 million people who cast a ballot this midterm, which is down from 13 percent in 2018, and 16 percent in 2020, according to Ryan's analysis.
Yet, turnout among young voters was the second highest for a midterm in the past 30 years, however, it was still down from the highest year, the 2018 midterms just four years earlier, according to The Center for Information and Research on Civic Learning and Engagement at Tufts University, known as CIRCLE.
Abby Kiesa, the deputy director at CIRCLE, said 2018 remains "a high-water mark" for youth voter turnout during midterms in the U.S. since the 1970s.
The decline seems like a failure by Texas Democrats to rally the youth vote.
And the near-total abortion ban imposed by Gov. Greg Abbott and the GOP-controlled state legislature would seem to have contrasted by the more than 70 percent of young people claim to be pro-choice.
However, according to some advocacy experts, Republicans also fell short.
"Both parties in the state failed to mobilize and engage young voters in the way that they should have been," said Olivia Julianna, the director of politics and government affairs for the progressive advocacy group Gen Z for Change.
"When we look at other campaigns across the country, especially in Pennsylvania, there was very, very, very strong youth engagement coming from people running at the top of the ticket. Youth voices were prioritized. … We saw that in some races here in Texas, but we didn't see that in all of them," she added.
Julianna blames Senate Bill 1, the GOP voting bill passed last year that reduced voting hours statewide, by standardizing voting hours across the state and cutting hours in some urban areas and introducing new identification requirements for absentee ballots and the applications for them.
The changes led to more than 10,000 mail-in ballots being rejected in the state's largest counties in the midterm election. That is roughly four percent of the total votes cast and is more than double the number from the 2018 midterm, which occurred before changes to state voting restrictions.
Many young Texans vote by mail when enrolled in colleges across the state, Julianna added, and she said some of them never received a ballot.
And universities across the state lack on-campus polling sites, and that coupled with the new state laws regarding voter ID and registration make it harder for young Texans to vote, according to advocacy groups.
Among those groups, MOVE Texas A&M, a nonpartisan student organization that focuses on voter engagement, fought the county to get a voting location back on campus.
The group also raised over $10,000 to provide shuttle buses to take students to the College Station City Hall to vote in the absence of campus options for early voting.
For example, Texas A&M University, which has an enrollment of nearly 75,000 students, did not provide an early voting location on campus in College Station.
Critics say that was a blatant disenfranchisement of students and an attempt to suppress the voting rights of the school by the Brazos County government in which it is located.
According to the Texas Tribune, only 50 percent of the state's 36 public universities had an on-campus early-voting location this year.
And only 20 percent of Texas' nine historically Black colleges and universities, and only two had voting sites before Election Day.
SB1 is considered to be punitive by a study conducted by New York University's Brennan Center for Justice, which found Latino, Asian and Black voters were significantly more likely to have both voting applications and their ballots rejected under the new requirements.
The study concluded that the result is the disenfranchisement of communities of color, the language challenged, and the disabled.