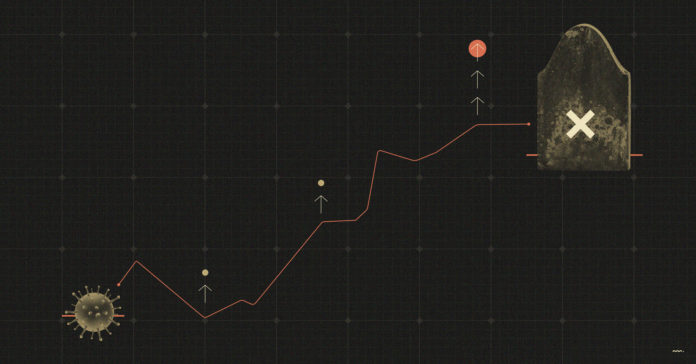 Before the COVID-19 pandemic, Texas prided itself on a booming economy, plentiful jobs and a more affordable and better quality of life than other states could offer.
But what the boisterous bluster did not reveal was that millions of Texans were disenfranchised from the "Texas Miracle," reeling in poverty, dodging crime and battling homelessness, food insecurity, poor access to health care and premature death.
While these problems are widespread across the state, the startling reality is clearest within the boundaries of a Fort Worth ZIP code where residents' life expectancy is the shortest in the state.
In ZIP code 76104, a collection of neighborhoods with a population that is nearly 50% Black and approximately 40% Hispanic, where the unemployment rate of 13.5% is higher than the state and national average and nearly 85% of the children qualify for free or reduced meals.
The average life expectancy here is 66.7 years, nearly 12 years lower than the overall life expectancy in Texas of 78.5 years, according to an interactive mapping tool developed by researchers at UT Southwestern Medical Center in Dallas to track life expectancy by gender and race/ethnicity in counties and ZIP codes across the state.
Introduced in 2019, the mapping tool employs data from 1.6 million death records between 2005 and 2014 recorded by the Texas Department of State Health Services Center for Health Statistics.
"We knew that where you live is predictive of health, but the degree of variation that we observe was really striking down to the ZIP code level," said Dr. Sandi Pruitt, lead investigator of the research project and assistant professor in the Department of Population and Data Sciences at UT Southwestern.
Life expectancy can vary as much as 30 years between ZIP codes, as indicated by the shortest of 66.7 years in ZIP code 76104 and the longest of 97 years in 78634 in Hutto, near Austin, in ZIP code 78634.
While the research adds to the body of evidence illustrating health disparities along gender, ethnic and income divides, it does not provide a plan for improving health care for the state's most vulnerable residents, who need it more than ever as a result of the pandemic.
Some lawmakers have pushed for emergency funds to serve vulnerable populations in Texas communities struggling with the coronavirus.
U.S. Rep. Eddie Bernice Johnson, (D-Dallas) and 25th District U.S. Rep. Roger Williams (R-Austin) recently sent an urgent request for more public health funding to U.S. Department of Health and Human Services Secretary Alex Azar to help these communities.
"These dollars would support high impact areas with recent surges of COVID-19, which would include communities across Texas," Johnson stated.
While helpful, stop-gap measures are a Band-Aid solution for a critical emergency.
"As in many other areas of society, COVID-19's devastation has laid bare the big gaps that remain in Texans' access to health coverage, which affect families from the poorest to middle income," said Anne Dunkelberg, associate director of Every Texan, formerly the Center for Public Policy Priorities. "A short list of the worst gaps includes the lack of any low-cost coverage for Texas' working poor and near-poor adults.
"Staggering unemployment—over 3.5 million Texans filing for relief since March—also brought a wave of Texans losing their job-based health coverage, and sent millions of Texans seeking help who never before thought of using anti-poverty programs," she said. "Supplemental Nutrition Assistance Program (SNAP), formerly "food stamps," rolls have grown by over 600,000 Texans (to 4 million) since March."
Newly released data shows that Texas again had the most uninsured residents in the country with 5.2 million of 18.4 percent in 2019. This was the third straight year of increase in the number of uninsured Texans.
Dunkelberg said that the new estimates added 700,000 more adults to the ranks of the uninsured since May and projections indicate far more to come.
She and other advocates for uninsured Texans say the best way to increase health care coverage is to expand Medicaid in Texas, which 38 other states have already done.
A new study shows that expansion of Medicaid in Texas would make an estimated 1.27 million Texans eligible, enroll nearly one million uninsured and bring an additional $5.4 billion in federal funds for health care to the state with minimal cost to the state.
"These new numbers show why Texans have told us they support Medicaid expansion — because it means more than one million people could have access to affordable medical services, including vital preventive care that's more important than ever," said Elena Marks, president and CEO of the Episcopal Health Foundation, which funded the study conducted by the Bush School of Government and Public Service at Texas A&M University.
When the Texas Legislature meets in session in January, budget shortfalls and the agonizing impact for Texans due to the pandemic are expected to dominate the agenda, observers predict. Medicaid expansion could emerge as part of that debate.
"The current budget shortfall has blown away some of the ideological fog around Medicaid expansion, said State Sen. Nathan Johnson (D-Dallas).
"When you look seriously at our numbers, and at the experience of expansion states, it's clear that expansion of coverage under the ACA generates positive cash-flow for the state while enabling the working poor to live healthy and productive lives," he said.