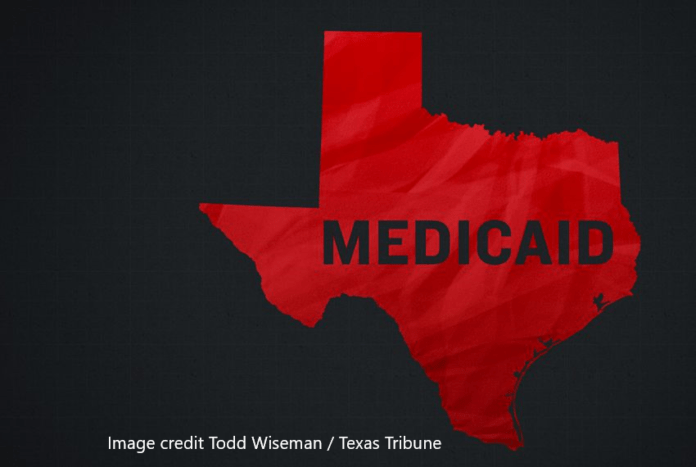 We all know the saying, "Everything is bigger in Texas."  Unfortunately, bigger doesn't always mean better. Texas leads America in the number of uninsured Americans, and in particular, we have the most uninsured children in the United States.
In the aftermath of the 2018 midterm elections, when Medicaid expansion ballot initiatives passed in Idaho, Utah, and Nebraska, 36 states and the District of Columbia have now adopted Medicaid expansion, a key provision of the Affordable Care Act (ACA). Fourteen states have not expanded Medicaid, including Texas.  The Texas Legislature has refused to expand Medicaid, the joint federal and state program which provides healthcare for low-income Americans, even when it would have had no cost to Texas taxpayers. In fact, not a single bill to expand Medicaid has even received a floor vote in the Texas Legislature, despite several attempts to do so. Only one bill, a compromise between the two parties, even got a vote in committee and passed, yet it did not receive a floor vote. Two budget amendments to expand Medicaid were voted down by a majority of the House in 2013 and 2017.
The unwillingness of Texas politicians to expand Medicaid coincides with 17.3 percent of the state population, or nearly 5 million Texans, who are uninsured.  Under Medicaid expansion, the latest estimates show that over one million Texans could gain coverage.

Click on a local region above to see a detailed fact sheet with characteristics of the uninsured for that area (Source: Episcopal Health Foundation Evaluation Team, December 2018).
Anne Dunkelberg, a healthcare policy expert at the Center for Public Policy Priorities in Austin, said "access to care is extremely questionable if you're uninsured" and live outside of the top 6 to 8 urban counties. Dunkelberg added being uninsured might mean people are not getting "preventive tests, good ongoing treatment to chronic conditions" and are unable "to afford prescription drugs that might make a chronic condition trivial [e.g. diabetes]"; and if you're in the lower to moderate income range, there is the risk of "exposure to medical debt."
Separately, a health economist told Reform Austin on background about the "spillover effects" of having such a large uninsured population. The privately insured would actually have less access to care and less quality care when living in predominantly uninsured areas like the border and rural towns. This happens because the healthcare marketplace is affected by having so many people who cannot pay for care, and it becomes difficult for health providers to maintain services in areas as a result.
Covering More Kids
A new report from Georgetown University shows that Texas ranks first in the number of uninsured children, and for the first time in a decade, that number has increased from the previous year. The lead author of the study, Joan Alker, argues expanding Medicaid would be the "No. 1 surefire way" to "turn this around", that "if Texas [had] expanded Medicaid in 2017, I think we probably would see different numbers."
The implementation of Medicaid expansion would decrease the number of uninsured parents, which would, in turn, boost their children's enrollment. Dunkelberg explained this is because children's insurance status has been shown to be strongly associated with their parents. She also added, "Our legislators, most of them, don't understand that there are 3.2 million children on Texas Medicaid but fewer than 150,000 of their parents qualify."
Dr. Ryan Van Ramshorst, General Pediatrician and Chair of Texas Medical Association Select Committee on Medicaid, CHIP & the Uninsured, told Reform Austin "a majority, close to two thirds, [of uninsured children] are eligible for Medicaid" but are not insured in his experience, "largely due to the complicated nature of the Medicaid system." He argued insuring the parents would, therefore, benefit their children's health, because parents who enroll themselves would certainly enroll their children.
Insuring More Texas Mothers
According to a Center for Public Policy Priorities analysis of Census data, one in four Texas women of reproductive age (15-44) were uninsured as of 2014 – about 1.5 million Texas women – nearly a third of all uninsured Texans. Recent data from Dallas County shows that half of all women of reproductive age are uninsured. With a coverage plan, these Texas women could get the care they need to be healthy as possible when they become pregnant, and to deal with ongoing medical needs (e.g., diabetes, depression) after their babies are born.
This comes in the context of Texas making headlines for its maternal mortality crisis. According to Dunkelberg, there are no comprehensive coverage sources for women below the poverty line in the coverage gap. These women can get maternity coverage for Medicaid from when they have a positive pregnancy test until 2 months after childbirth; however, advocates have argued this is insufficient to address the crisis. In fact, the very task force directed by the Texas Legislature to address this issue brought up this concern in their list of recommendations to lawmakers this year. 
"Increase access to health services during the year after pregnancy and throughout the interconception period to improve the health of women, facilitate continuity of care, enable effective care transitions, and promote safe birth spacing." – Maternal Mortality and Morbidity Task Force and Department of State Health Services, Joint Biennial Report, September 2018
Dunkelberg said, "[With Medicaid expansion,] we can get a comprehensive medical home before [women] get pregnant that could help them have a healthier pregnancy and a healthier year after the baby is born [for the mothers]."
Recent news of rural hospitals closing their obstetric units, causing women to have to travel hours to deliver and often skimp on prenatal care, gives more urgency to address the issue and sheds light on a different effect of Medicaid expansion.
Preventing Hospital Closures in Rural Texas
Another benefit of Medicaid expansion for Texas would be eliminating much of the uncompensated care reimbursements to hospitals, a cost that lawmakers have punted to the local taxpayer through our property taxes. A recent study showed states that adopted Medicaid expansion were less likely to close hospitals, especially rural ones. In Texas, there have been 18 rural hospital closures since 2013.
Dr. Van Ramshorst added that Medicaid plays a large role in funding rural healthcare and rural hospitals. He argues that expanding Medicaid "would help rural hospitals serve their mission in serving the most in need." Dunkelberg told Reform Austin that,
"Rural hospitals in Texas have been aware for some time that they've been really disadvantaged by Texas failing to move forward with [Medicaid expansion]." If Texas were to expand Medicaid, it "could be a huge boost to [rural hospitals'] ability to adjust to the… changes in healthcare" like changing demographics and declining volume.
She added that "one of the things driving limited access to primary care in some places and specialty care in other places is the high number of people who can't pay for care." In a study that showed this trend, researchers had argued that if Texas expanded Medicaid, that would be a big boost to the primary care supply, particularly in rural Texas.
One health economist who talked to Reform Austin on background supported the claim that healthcare resources would be benefited by Medicaid expansion, in particular, by more providers coming into the state. Dr. Van Ramshorst explained that there are not enough physicians for all Medicaid patients. There are anywhere "between 40 & 50% of physicians [who] are willing to accept new Medicaid patients" and that is in part due to "inadequate payment & reimbursements" by the State. He argued that the Texas Legislature "has a history of underfunding the Medicaid program" and underfunding providers for Medicaid patients, and nothing stops the Legislature from reversing course.
For Texas, expanding Medicaid would reduce the racial disparities in health coverage among Hispanics, who make up over half the share of individuals in the coverage gap. Despite many Hispanics being in an economic position to receive government subsidies, they lag in private insurance enrollments. Medicaid expansion would also reduce the disparities among older adults at the cusp of retirement versus the young, due to the high prevalence of chronic diseases, such as diabetes, which can be more easily treated and managed with coverage.
Texans Support Medicaid Expansion
Recent surveys by the Texas Medical Center and the Houston-based Episcopal Health Foundation in conjunction with the Kaiser Family Foundation show nearly two-thirds of Texans support expanding Medicaid – 60 percent and 64 percent, respectively. Several newspaper editorials have even called on Texas legislators to expand Medicaid. The physicians' group, Texas Medical Association, voted in 2013 to support expanding Medicaid in a "Texas solution". The Texas Hospital Association was a supporting witness of the sole Medicaid expansion bill that received a committee hearing in 2013.
In multiple national, multi-state, and state studies, Medicaid expansion "has realized budget savings, revenue gains, and overall economic growth." In 2012, noted Texas economist Ray Perryman estimated over 300,000 Texas jobs would be created with this health care in the first ten years of implementation. He also projects that "every $1 spent by the State returns $1.29 in dynamic State government revenue over the first 10 years of the expansion"; in other words, expanding Medicaid more than pays for itself. Another Texas economist, Billy Hamilton, projected Medicaid expansion would boost "Texas economic output by $67.9 billion" and "generate an estimated $1.8 billion in new state tax revenue" in the first 3 years of implementation.

Critics of Medicaid expansion argue the state does not have the funds to cover Texas' portion of the expansion in the long run. The federal share of the expansion is planned to phase down to 90 percent in 2020 and subsequent years. Currently, the federal government pays for nearly 60% of the share of the Medicaid costs in Texas. One estimate in 2012 forecasted that by not expanding Medicaid, Texas will forgo nearly $90 billion in federal healthcare funds over the first ten years.
"When you leave Medicaid money on the table, you're shooting yourself in the foot." – Anne Dunkelberg, health care policy analyst at the Center for Public Policy Priorities
In lieu of expanding Medicaid, Texas has been negotiating with the federal government's Center for Medicare and Medicaid Services (CMS) on the state's waiver for uncompensated care and has succeeded in getting $25 billion in federal funding over the next four years. Yet none of that money will go to covering any of the Texans in the coverage gap, a driver of the uncompensated care. These federal waivers were in place before Medicaid expansion was put to Texas lawmakers in 2013. According to Dunkelberg, they were meant to be a temporary measure to ease the transition for expansion states. That has allowed Texas to not feel the full cost of foregoing Medicaid expansion.
Dr. Van Ramshorst closed our interview saying,
"There's a humanitarian argument to address this issue" with expanding Medicaid as well as a fiscal one, and that "everyone has a stake in fixing this large problem."
Previewing the 86th Legislative Session
Ahead of the upcoming 86th Legislature, State Rep. Carol Alvarado (D-Houston) has filed HB 282 that would allow County Judges to request the expansion of Medicaid for their constituents through a waiver under Section 1115 of the Social Security Act. The bill appears to be a piecemeal effort in getting the entire state to adopt Medicaid expansion. Were the bill to pass, it is unclear whether or not the federal government would fund Medicaid expansion for an individual county, as opposed to statewide.
In January 2019, the Texas Legislature will meet, and Reform Austin will be there holding members accountable and advocating for the common sense expansion of Medicaid to help all Texans.