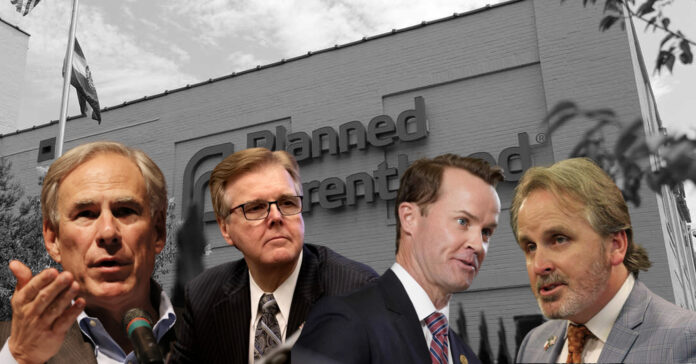 In the wake of the Supreme Court overturning Roe v. Wade, Republicans are making promises to increase funding for maternal health care. But, Texas lawmakers fighting for resources to help women, children and families is as unprecedented as a post-roe world. So, it's hard to imagine these gestures as anything other than superficial.

The Lone Star State has the highest rate of people without health insurance, at 17.3%, according to U.S. Census data.

A recent study ranked Texas 50th among all states in access to high-quality prenatal and maternal care due to the difficulties women face in getting health care coverage both before and after their hospital stay.

This lack of access to healthcare is the leading cause of maternal death and illness, according to Texas' Maternal Mortality and Morbidity Review Committee's 2020 biennial report. In 2018 Texas had a maternal mortality rate higher than the national average, according to the Centers for Disease Control and Prevention.

The lack of comprehensive coverage women get before and after they are pregnant is solely the Texas legislature's fault, which has a grim track record of appropriating funds meant for women's healthcare.

What is Texas' Maternal Healthcare Track Record?

In 2019, during the 86th Texas legislature session, more than 40 bills were filed to improve women's health and reduce the maternal mortality rate, 25 received committee hearings and only nine passed – not including the budget and supplemental appropriations.

The biggest move forward for women's health that year came in increased funding in the biennial budget to the tune of $9.7 million. This covered $6.2 million more funding for the state's family planning program, Healthy Texas Women, and $3.5 million for maternal care pilot programs and maternal safety initiatives. 

However, one of the most important bills for women's health to address a time when many pregnancy-related deaths were occurring, did not pass. The proposal to extend Medicaid maternity coverage for up to 12 months postpartum – the #1 recommendation by the Texas Maternal Mortality and Morbidity Task Force – passed the house and died in the Senate.

It wasn't until the 2021 Texas legislative session that lawmakers passed House Bill 133, which extended government-subsidized Medicaid coverage from 60 days after a baby is born to six months. Although experts still worry that it isn't long enough for women to be adequately covered for the myriad health issues that can arise months after giving birth.

In its original draft, HB 133 extended coverage to 12 months, but Republicans in the Senate amended the bill and reduced the coverage to the current 6 months.

More than half of pregnancy-related deaths occur in the 12-month postpartum period. Currently, Texas is one of only three states not following Centers for Medicare & Medicaid Services (CMS) recommendations on extending postpartum coverage to 12 months or more.

According to the Kaiser Family Foundation, Texas has one of the country's strictest income eligibility limits for Medicaid. Under the state law — and once the federal order to keep Medicaid recipients covered during the pandemic ends — mothers will get dropped six months after their baby's birth if they don't meet the stricter income threshold for their own health coverage, as reported by The Texas Tribune.

Cries of Triumph Coated with Superficial Gestures

Most of the GOP party is avidly celebrating the Supreme Court's decision on Roe v. Wade. Attorney General Ken Paxton even declared it an annual "holiday" and took the day off. 
On his Twitter he posted: "SCOTUS just overruled Roe & Casey, ending one of the most morally & legally corrupt eras in US history. Praise the Lord."
He also wrote in the same tweet "Abortion is now illegal in Texas. And today I'm closing my office—and making it an annual holiday—as a memorial to the 70 million lives lost bc of abortion."

Lt. Gov. Dan Patrick called SCOTUS' decision a "watershed victory… for all humanity." And Rep. Dade Phelan said it marked a new era in Texas: "Today's ruling is a massive victory for innocent, unborn life and marks the beginning of a new era in Texas."

Accompanying their cries of victory, Republicans have started pledging they will do everything in their power to continue saving lives.

Gov. Greg Abbott said he would continue working with the Texas legislature and all Texans to save every child from "the ravages of abortion and help our expectant
mothers in need."

Phelan pledged that when the Legislature reconvenes in 2023, "the Texas House will double down on maternal health care and resources for women, children, and families."

However, it was also under their watch that Texas garnered a last-place trophy for having the worst access to maternal healthcare and health insurance in general. We must hold them accountable for their unfulfilled promises and keep a watchful eye on their next moves during the 88th Texas Legislature.