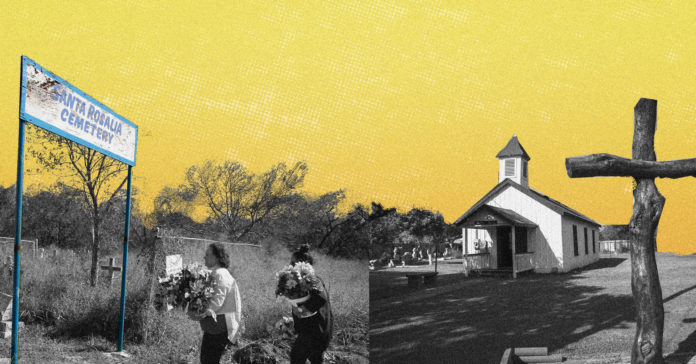 Cemeteries and the wall along the United States-Mexico border don't seem to have much in common unless the barrier that divides the nations is disturbing the dead and harassing history.
And that is what seems to be happening in the Rio Grande Valley as a rush to construct a segment of the 30-foot tall border wall has ensued.
In particular, there has been an outcry about the wall running through the Eli Jackson Cemetery and the Jackson Ranch Church and Cemetery in Hidalgo County. Both are registered with the Texas Historical Commission.
The wall is apparently circumventing the celebrated churchyards.
"U.S. Customs and Border Protection has developed measures to ensure that the current plan for the new border wall system in this location does not impact the Eli Jackson Cemetery or the Jackson Ranch Church and Cemetery," read a statement sent to Reform Austin by U.S. Customs and Border Protection.
Construction has begun on an 11-mile section of the wall that will be built along an existing flood levee, CBP stated further, indicating the property boundaries of the cemeteries and chapel will be clearly defined and will include an environmental monitor to ensure best management practices are followed during the construction. Additionally, work will cease if historical or culturally-sensitive artifacts are discovered, CBP said.
"It has never been CBP's intent to disturb or relocate cemeteries that may lie within planned barrier alignment," the statement said. CBP regularly engages with stakeholders about current and proposed initiatives to address issues, resolves concerns, as well as build and maintain partnerships."
The church and nearby cemeteries were originally part of a ranching settlement established in 1857 by a white plantation owner, Nathaniel Jackson, and Matilda Hicks, a former slave, along with their children, relatives, and 11 freed slaves, according to The Intercept.
In 2019, U.S. Rep. Henry Cuellar (D-Laredo), vice chair of the Homeland Security Appropriations Subcommittee, along with U.S. Representatives Vicente Gonzalez (D-Corpus Christi) and Filemon Vela (D-Harlingen), incorporated language in the 2020 Homeland Security Appropriations bill preventing the Department of Homeland Security from applying funds to fencing construction within historic cemeteries, including the Eli Jackson Cemetery.
"We cannot allow a border wall or fencing to destroy South Texas's cultural and historical landmarks," Cuellar said in a 2019 press release.
"I will continue to work with my colleagues on the Appropriations Committee to build a spending bill for 2021 that has strong border security, including additional personnel, equipment, new technology, and no funding for a wall," he stated in a May 2020 press release. "I am committed to ensure further historical and cultural landmarks in our community are protected from this wasteful border wall."
CBP said the Eli Jackson Cemetery and the Jackson Ranch Church and Cemetery are still accessible through roads that are the most commonly used access points to the properties.
Of course, many in the Lone Star State just aren't happy with the wall — historical cemetery encroachment or not.
"TBC (Texas Border Coalition) has repeatedly advised President (Donald) Trump and members of Congress that a 'one-size-fits-all' approach will not work in Texas," said a statement sent to Reform Austin from the border policy organization. "At the very least, we've asked them to consult with local officials before embarking on a misguided and expensive project that will divide communities and fuel mistrust and anger on both sides of the border."