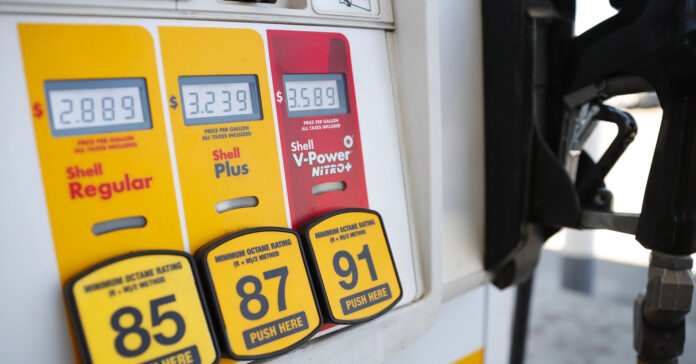 Since the surge in gas prices, there has been an ongoing war between President Joe Biden's administration and the oil industry. Everyone is pointing fingers and nobody feels guilty, in an article by Bloomberg, they analyze "who's to blame" for the high prices, proving wrong or right all the claims that are circling about the "pain in the pump".
While Biden's Administration claims "gas supply companies are paying less and making a lot more," the oil industry blames them for their policies to reduce the nation's reliance on fossil fuels and the construction block of Canada's Keystone XL pipeline.
The claims analyzed in the Bloomberg article include; why oil companies can't just open the taps, if the Keystone XL pipeline could have eased the supply, and how Biden's green agenda might have discouraged U.S. oil production.

To start off, the U.S. oil industry is still producing less crude than it did before the pandemic reduced travel, and decreased demand for fuel. Even though things are getting back on track, – economy-wise – oil production is lagging behind, with only a 4.5% output this year – still 12% below pre-pandemic highs, and coming after a four-year high of more than 50% output between 2016 and 2020. 
"We had very, very low prices as demand decreased," Deputy Energy Secretary David Turk said in a Nov. 23 Bloomberg Television interview. "And now we're having demand increase that supply is not keeping up with."
This means that refineries are paying more for the crude they process into fuel; crude oil made up about 57% of production cost for those facilities last month and even though these prices will continue to increase, oil and natural gas producers are resisting the urge to drill again.
Companies that suffered when prices plummeted during the pandemic are being more cautious when it comes to investing. In some cases they have reached profitability, and don't want to risk their relationships with investors.
Publicly traded independent oil producers will make record profits this year, and expect next year to be even better, with free-cash-flow growth of 15% to almost $66 billion forecasts for 2022, according to Bloomberg Intelligence.
Could the Keystone XL pipeline eased this supply crunch ?

Even if it could have been operational right now, the Canadian crude Keystone would have carried a particularly heavy oil that's more expensive to produce and refine, according to Jay Hakes, who served as administrator of the U.S. government's Energy Information Administration. 
"Keystone would have not been "bringing a low-cost product into the mix," said Hakes.
So, Biden pulling it's permit – which would have transported up to 900,000 barrels per day of Canadian crude to U.S. refineries-  might not have made as much of a penny difference in prices. 
But critics argue it would have opened a new avenue to market, encouraging more production of it.

On the other hand, Biden's green agenda only seems to be discouraging U.S. oil production. Since none of Biden's climate policies are active, there is a lot of uncertainty of the outcome they could have in the near future.
According to Bloomberg, Biden's climate policies could translate into less volatile energy prices by divorcing power and fuel demand from finite fossil resources. In the short term, however, that policy pivot can retard spending.
"Uncertainty stalls investment," and federal land policies could be deterring capital spending on new wells today, suppressing production below what it would be otherwise, said Kevin Book, managing director of research firm ClearView Energy Partners.
"Knowing there are environmental strictures coming that could strand your investment probably isn't a favorable environment for investing."