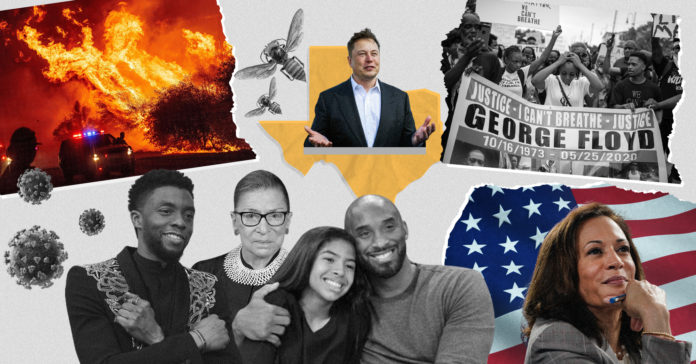 This has been the longest year and the world has experienced a global pandemic, an economic downturn, job loss, wildfires, and every month of this year seemed to bring more shock and unfortunately grief. As we look back here are some (but not all) major events of 2020.
COVID-19 pandemic
Worldwide over 75 million people have tested positive for coronavirus. The pandemic caused major disruptions for individuals of all ages and families, and the virus led to historic job loss, traumatic grief, business closure and much more tragedy.
Kobe Bryant
Just before the pandemic hit, sadly basketball fans mourned the death of Kobe Bryant and his daughter, along with 7 other passengers who died in a helicopter crash outside Los Angeles. The passengers included some from the Houston area.
Chadwick Boseman
While known for playing Black Panther in the Marvel superhero hit, Chadwick Boseman was privately undergoing treatments for cancer.  Tributes flooded social media from actors,  athletes, musicians, Hollywood titans, politicians and fans expressing Boseman's talent, kindness, compassion and beautiful smile. He passed away on August 28, 2020, he was 43 years old.
George Floyd Houston Rally
Houston native George Floyd died on May 25 in Minneapolis police custody this year, his tragic death has sparked months of protests against police brutality, and tens of thousands of people in the Bayou City marched in peaceful protest in the months after his death.
Trump Impeachment
In January President Trump faced an impeachment trial based on charges that he had pressured Ukraine to investigate former Vice President Joe Biden. However, Trump was acquitted by the Senate in early February.
Murder Hornets
If a pandemic wasn't enough, then came Murder Hornets arriving in the U.S., the  Asian giant hornets put the honeybee population at risk with their toxic venom. RA News interviewed Dr. David Ragsdale, chief scientific officer, associate director of Texas A&M AgriLife Research, who said. "The thing to understand about these hornets is that they can deliver up to seven times the venom as a regular bee or stinging insect…they'll sting to protect their young."
West Coast Wildfires
Wildfires are a natural part of California's landscape, but this year the destruction was devastating, with four million acres burned by wildfires in 2020 with more than 8,000 fires.
RBG Death
Americans mourned the death of Ruth Bader Ginsburg in September. Ginsburg was an associate justice of the Supreme Court until her death. This week Rutgers University announced naming a residence hall in her memory. Ginsburg is being remembered for perseverance, passion, and her pursuit for equality and justice.
A press release from the university states, "While at Rutgers, Ginsburg pioneered teaching women's rights with a seminar on the law and gender equality."
Kamala Harris first woman to be VP
Kamala Harris made history in 2020 as the first woman and woman of color as Vice President. No one will forget when Harris told Mike Pence "I'm speaking," as he interrupted her during the vice presidential debate.
Elon Musk moving to Texas
The second richest man in the world, and founder of SpaceX and Tesla announced this year he is ditching Silicon Valley and making the Lone Star State home. He hasn't revealed which Texas city will be his hub, but all tech eyes are watching. Texas Monthly reported that one city may be ideal, as Musk relocated the Musk Foundation, to Austin. 
While we look back to remember one of the toughest years yet for many people and families, there are more events, some that feel like 100 years ago, but happened in 2020.