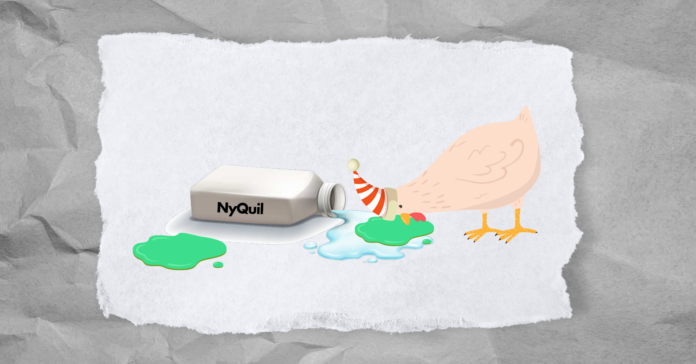 Recently, videos have appeared on TikTok promoting the trend of "NyQuil™ chicken". The recipe is basically cricket breast cooked in NyQuil, a cough syrup. The user that originally made this recipe said he made this chicken for his wife, who at the moment was sick. It is unclear why this trend started to be so popular but some theories are that some people think that cooking food with medication would help to recover from the flu. There are additional TikTok videos featuring NyQuil™ pasta, including macaroni and cheese.
Is it safe to cook food with this type of medication? According to the National Capital Poison Center, this type of recipe could lead to potentially life-threatening toxicity once the chicken is consumed. "It is possible that large amounts of NyQuil™ can be absorbed into the chicken during the cooking process. Liquid NyQuil™ contains alcohol that may evaporate during the cooking process, leaving behind high concentrations of the active ingredients", says a statement published by the National Capital Poison Center.
The FDA has also recommended avoiding these trends. "These video challenges, which often target youths, can harm people — and even cause death," the FDA stated in a warning.