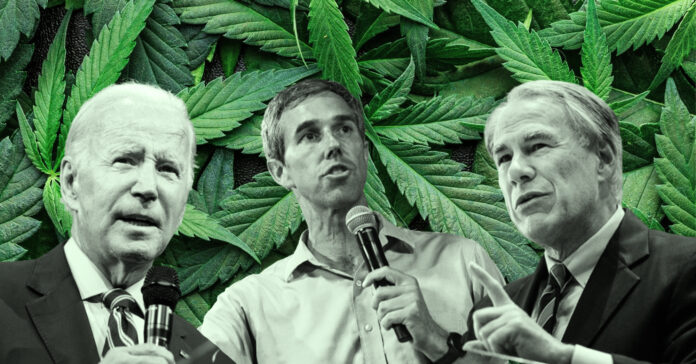 On Thursday, President Joe Biden took the Texas GOP party by surprise, as he announced a pardon of all federal marijuana possession charges, urging governors to follow suit with state-level convictions.

"Too many lives have been upended because of our failed approach to marijuana. It's time that we right these wrongs." Biden said in a statement.
The federal pardon will affect at least 6,500 people, The New York Times reported, but the vast majority of marijuana possession crimes are charged on the state level, which is why Texas Gov. Greg Abbott's support could make a bigger difference than most.

Abbott however, did not directly answer whether he would pursue pardons for Texas convictions, although he did make it clear it was not his priority.

In a statement to VICE News, Abbott's spokesperson said he "is not in the habit" of taking advice from the Biden administration.

"The Governor of Texas can only pardon individuals who have been through the Texas Board of Pardons and Paroles system with a recommendation for pardon," Renae Eze, Abbott's spokesperson said. 

On the contrary, Abbott's gubernatorial opponent, Democrat Beto O'Rourke, was quick to announce his support for the president's action.

"When I'm governor, we will finally legalize marijuana in Texas and expunge the records of those arrested for marijuana possession," O'Rourke said in a statement.

Pamela Metzger, a law professor and director of the Deason Criminal Justice Reform Center at Southern Methodist University in Dallas, told The Texas Tribune, that while Biden's pardon is a step in the right direction, it's a small step and not many Texans will benefit unless Abbott gets on board.
"Imagine what Gov. Abbott could do with the size and scale of marijuana possession in Texas," Metzger said.
This year through August, Texas prosecutors filed more than 14,000 misdemeanor pot possession charges, so far leading to more than 5,000 convictions, according to statewide court data. Marijuana prosecutions dropped dramatically after 2019 when Texas lawmakers legalized hemp. In 2018, for example, nearly 50,000 misdemeanor marijuana charges were filed, as reported by The Texas Tribune.